Hey!


Is your career on track?
Before we begin: If you enjoy this newsletter, please forward it along. If someone forwarded this to you, click here to sign up https://www.100goalsclub.com/life-goals-club-membership.html
100 Goals Club is a complimentary newsletter that specializes in helping you plan your life goals in 10 important areas.
1. Personal Development
2. Health and Fitness
3. Family and Friends
4. Hobbies and Passions
5. Financial
6. Career
7. Adventure
8. Travel
9. Lifestyle
10. Leaving a Legacy / Giving Back
You are part of an exclusive group of goalsters (someone who understands the importance of life goals)! This email is going out to 1356 email subscribers.
You are receiving this email because you expressed an interest in life goals. Remove your email by clicking unsubscribe below at any time.
---
Good Quotes (about careers)!
"Passion is the difference between having a job or a career" BeHappy.me

"If you want to live a happy life, tie it to a goal, not people or objects" Albert Einstein

"Opportunities don't happen, you create them" TopResume.com

"The goal isn't more money, its living life on your terms"

"I've missed more than 9,000 shots in my career. I've lost almost 300 games. 26 times I've been trusted to take the game winning shot, and lost. I've failed over and over and over again in my life. And that is why I succeed". Michael Jordan

"Be so good they can't ignore you" – Steve Martin

"It's A beautiful thing when a career and passion come together" – Unknown
---
Why Career Goals?
Good career goals and why career goal setting is crucial to your success!

Selecting from good career goals and doing your own career goal setting is important for growth in your occupation or profession. Your career represents your "life's work", from which you generate income to be able to live the life you choose.

You can have many careers throughout the course of your life.

For some, choosing a career is easy and natural. For most, it is difficult!. As you graduate from high school, you are expected to choose your education path, which will form your career path.

Having completed your education (high school, college, university, etc.), you either end up in the career you've been educated on, or you find you can't find employment, and move on to something else. You sometimes end up in a career that you thought you would love but then find out you don't.

Selecting your career is one of the most difficult decisions you will make. Once you are in your chosen career, changing careers is one of the most difficult decisions you will make.

Career goal setting is therefore very important.
---
10 Career Goals at 100 GOALS CLUB
These 10 good career goals are designed to help you select your career, develop your career, and excel in your career. Adopt, modify or change these 10 goals to make them your own.

Top 10 good career goals to get your dream job

51 - Do a career assessment

52 - Get an education

53 - Find or develop your passion

54 - Join a professional association

55 - Be a good employee

56 - Be a good leader

57 - Be an expert in something

58 - Become an authority figure

59 - Be your own boss

60 - Create multiple income sources

Visit https://www.100goalsclub.com/good-career-goals.html for the website version of this information where you can click on each goal.

Browse from these good career goals and this career goal setting site and develop your own career goals unique to your situation and personal ambitions. For some, being a good employee and rising the career ladder will make you happy. For others, it may be your ambition to be your own boss and run your own business. There is no right or wrong answer. Your career is critically important to so many things that will define your life.

The greatest amount of time in our life will be devoted to our career, so its essential that you choose a career path that you will be happy with and is aligned with your other life goals. Financial rewards and income potential is a key consideration for choosing our career path. Choosing the wrong career may severely limit your ability to achieve your life goals.
My own career progression
In my own situation, the following jobs define my career progression:

- Helping my dad grow and sell organically grown tomatoes from our roadside stand

- Working at a farmers market selling locally grown produce Picking apples

- Performing in a band as a young musician (playing in local bars at age 16)

- Working as a Faculty Assistant at DeVry Institute of Technology where I graduated as an Electronics Technologist

- Service technician for a biomedical equipment manufacturing company (this only lasted a few weeks)

- Bid Coordinator for Bailey Control, a control system company which eventually was acquired by ABB

- Purchasing agent for Arbell, a distribution company selling into the electronic manufacturing industry

- Sales and Marketing assistant for ISTEC, a small start-up high technology company manufacturing and selling stabilized camera systems

- Proposal Coordinator for the same company (name changed from ISTEC to WESCAM INC)

- Manager of Bids and Proposals for the same company, acquired by a large US company (L3 Communications, later L3 Harris)

- Landlord and property manager for personally owned residential real estate (6 different properties)

I had close to a 30 year career working for the same company (evolving from a company with only 45 people when I started to well over 1,000 when I retired). There are benefits to working for the same company and climbing the corporate ladder, but only if the company is a good company to work for and they recognize your work (and reward you financially too).

I was often torn between wanting a career that I was more passionate about (but struggled finding my real passion) and working for my employer. In short, I liked my job and my company, but I felt there was another career for me. There were many weeks where I would work 80 - 100+ hour weeks. I stuck with my same job because it paid well and I was able to continue to advance with the growth of the company, ending up as a Senior Manager and a great salary. Without the personal growth of managing a team of people, I would have been looking to change careers.

Fortunately we were able to develop our real estate as our side hustle and achieve many of our life goals, while managing our careers.
---
Career Approaches
There are so many ways to approach your career:

- an okay job with an awesome side hustle

- a job which you decide to be the best at and see if the passion will come with being the best. Financial rewards will follow.

- a career which you are 100% passionate about which may or may not compensate enough financially. If it doesn't, consider a side hustle.

- climb the employee ladder to a high paying job. This often comes with long hours and high stress

- buy a franchise (or multiple franchisees) with a company or product you are passionate about. This has less risk but often extensive hours and stress in managing employees while increasing revenue

- start a small business in an area you are competent (risky but potentially worth it)

- start a small business and build it into a bigger business and sell or franchise it (risky and stressful but potentially a big pay off down the road)

- and many more

There is simply NO ONE RIGHT APPROACH. You can set goals for the approach that is best for you, knowing that you might change it down the road.
---
Goal Achievement Tip
When you set your goals, be careful that you consider the long term consequences after you've completed the goal.

For instance, if you set a goal to run a marathon, you will find yourself getting into great shape leading up to the marathon. Once the goal of running the marathon is complete, you might completely stop your running altogether once the goal is complete, even though you loved the marathon and running.

From the book "Better Than Before" by Gretchen Rubin . . . "Setting a finish line does indeed help people reach a specific, one-time goal, but although it's widely assumed to help habit formation, the reward of hitting a finish line actually can undermine habits."

I just completed reading this book after mentioning it in my prior newsletter. This is a very good book for establishing habits that will help you achieve your written goals!
---
My music passion!
My 80's band Dorian Wild recently performed a gig at a club in Kitchener Ontario. I am the Bass Guitar player and back up vocalist. It was a special performance for our keyboard players brothers retirement party, retiring from a successful 25+ year career as an elementary school teacher / vice principle / principle. The band only plays together about once every 2-3 years for special occasions. Playing music is one of my hobbies and passions!

Check out the YouTube video with a 20 minute compilation of about 10 classic rock songs.

https://www.youtube.com/watch?v=tyjqq7ycCDc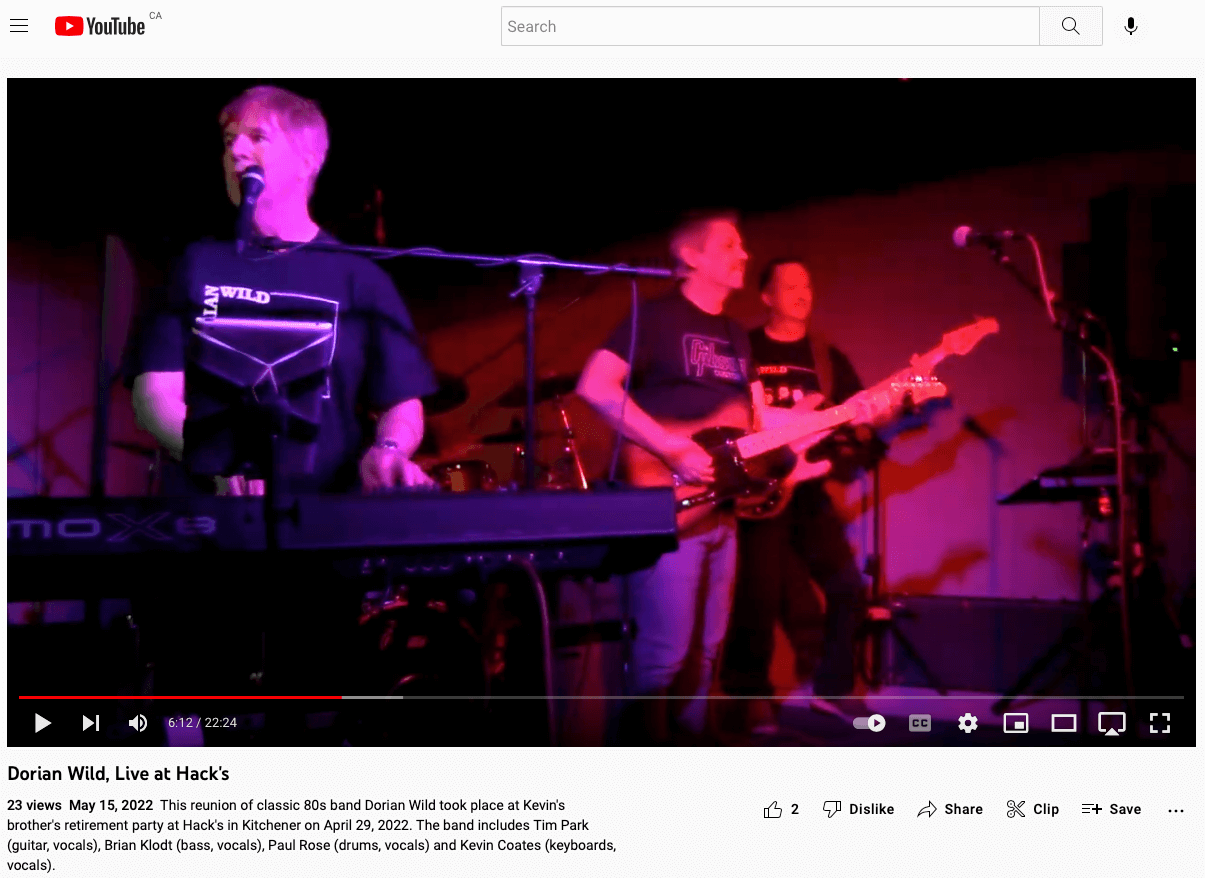 ---
Stock Market Investing
2022 has been one of the worst starts to the financial year in decades. Our Tesla stock (TSLA) was down to $ 625, after trading well above $ 1,100 late last year.

I came across this good quote which seems appropriate for this tumultuous time in the stock market . . .

"Your lifetime results as an investor will be mostly determined by what you do during wild times. Building wealth doesn't require a lifetime of superior skill. It requires pretty mediocre skills — basic arithmetic and a grasp of investing fundamentals — practiced consistently throughout your entire lifetime, especially during times of mania and panic." Morgan Housel

Hopefully all the FUD (Fear, Uncertainty and Doubt) about the state of the economy (recession coming?) and events in the world during this time of rising inflation level off.

This is not a time to panic. Investors who sell when the stock market tanks and re-invest when the stock market recovers, rarely succeed. Patience is required!
---
Next newsletter . . .
My next newsletter will be on July 1st where I will focus on ADVENTURE GOALS and how to live your life of adventure!

Brian Klodt founder of the 100 Goals Club

CREATE YOUR HAPPY LIFE! https://www.100goalsclub.com

P.S. If you enjoy these newsletters, share with a friend or family member!