Hey!


Your relationship goals in 2022 and beyond!
Before we begin: If you enjoy this newsletter, please forward it along. If someone forwarded this to you, click here to sign up https://www.100goalsclub.com/life-goals-club-membership.html
100 Goals Club is a complimentary newsletter that specializes in helping you plan your life goals in 10 important areas.
1. Personal Development
2. Health and Fitness
3. Family and Friends
4. Hobbies and Passions
5. Financial
6. Career
7. Adventure
8. Travel
9. Lifestyle
10. Leaving a Legacy / Giving Back
You are part of an exclusive group of goalsters (someone who understands the importance of life goals)! This email is going out to 1300 email subscribers.
You are receiving this email because you expressed an interest in life goals. Remove your email by clicking unsubscribe below at any time.
---
Good Quotes (about relationships)!
"Anything is possible when you have the right people there to support you." — Misty Copeland

"It's not what we have in life, but who we have in our life that matters." — Unknown

"The only way to have a friend is to be one." — Ralph Waldo Emerson

"Lots of people want to ride with you in the limo, but what you want is someone who will take the bus with you when the limo breaks down." — Oprah Winfrey

"The most beautiful discovery true friends make is that they can grow separately without growing apart." — Elisabeth Foley

"Align yourself with the right people, forge the right relationships and you'll set yourself up for the long run." — Daymond John

"Other things may change us, but we start and end with the family." — Anthony Brandt

"Family is not an important thing. It's everything." — Michael J. Fox

"A friend is someone with whom you dare to be yourself." — Frank Crane

" A great relationship doesn't happen because of the love you had in the beginning, but how well you continue building love until the end." - Unknown
---
Why Relationship Goals?
Out of all the 10 goal areas, understanding good relationship goals with family and friends are among the most important things you can accomplish and maintain throughout your life. Healthy relationships with the people that matter to you most are essential to living a happy life.

We are all social beings and can only thrive and survive with close relationships with our friends and family. Our very existence depends upon on it and, as we reach our later years in life, having people who love us is all that we care about.

Much of whom we become is shaped by our family beginnings and by our close social circle that we associate with. There are numerous family goals and friend goals that could be established in this important life goal area.

I've selected life and relationship goals that mainly relate to being a good friend or family member, something that you can't take for granted. It is important that we treat those closest to us as the most important people in our lives.
10 Family and Friend Goals at 100 GOALS CLUB
The following 10 relationship life goals are designed to help you stay focused on the people that matter most in your life:

121 - Choose good friends: Your friends you choose are a choice. If you don't have the kind of friends that support you and inspire you, it may be time to develop new friendships.

22 - Choose your life partner: This is for most, the most important choice in your life. If you haven't already chosen your life partner, make sure you write down the characteristics of your ideal partner and focus on them. Some would go as far as to say that you should visualize your perfect partner and have positive expectations that they will enter your life.

23 - Treat your partner as a VIP: If you already have your life partner, congratulations. Now it is your mission to ensure that the two of you nurture your relationship and do the things that recognize the other person as a VIP Very Important Person. It takes work.

24 - Go out on regular date nights: Now that COVID restrictions are lifting in most places, ensure you and your partner go out on regular date nights. Once a week is ideal.

25 - Learn how to be a good parent: Don't fake being a parent. Really take time and effort to discuss with your partner how you want to raise your child together. Read books or find a good role model and emulate their strategies. It is important that you are a positive role model for your children. It is okay that you don't make their life too easy as children sometimes need to learn how to fail and succeed on their own.

Ronald Morrish is an educator, international speaker and author of the books, Secrets of Discipline and With All Due Respect. Kathy and I attended one of his seminars hosted by our school board when our children were in school. We found his advice excellent.

26 - Be there for your children: Don't get so caught up in your career, finances and hobbies that you miss out on raising and being there for your children. Your children are a blessing in your life and need to know that you are there for them. We attended and continue to attend all their special activities and events in their life.

27 - Have regular family meetings: This is an under appreciated aspect of family life that can have a huge impact in your family when done correctly. Take the time to see how having a weekly or monthly meetings with your family can have a positive impact.

28 - Establish annual family traditions: When you look back on your life, the things that you did with your family in the way of traditions will stand out more than anything else. Make sure your nurture and develop these. There is magic in an annual tradition held consistently.

29 - Be a good friend: In order to have a good friend, you need to be a good friend. It is worth the time and effort to put into your friendships.

30 - Be a good son, daughter, sibling: The relationships you have with your parents and your siblings are important, not only in your early years but throughout your entire life time.

Modify these 10 relationship goals about family and friends to suit your own life and desires. It's your life so be sure to create your own goals that speak to you.
---
How to Win Friends and . . .
This is the book I am currently reading. The book is a classic read on how to excel with relationships in all areas of your life and especially helpful for building your career.

This book was written decades ago by Dale Carnegie, a personal development guru who had one of the most successful series of courses on everything from public speaking to sales.

His book titled "HOW TO WIN FRIENDS AND INFLUENCE PEOPLE" contains a must read section on six ways to make people like you.

If you struggle at all with relationships, this book is an excellent resource on the things that matter most to people and how to be a good friend.

This past month, I decide to re-read this book that has been sitting on my book shelf for the last couple of decades and aging gracefully. I was reminded why this book is truly a classic.
---
Goal Achievement Tip
I was recently listening to Steven Mark Ryan, a YouTuber who I watch his podcast daily called "Solving the Money Problem". Most of his work is about how and why Tesla (TSLA) is one of the greatest investment opportunities of this decade. He is very successful and retired early from investing in Real Estate (real estate is a big part of our success) and currently owns about $ 6M in Tesla stock.

One of his Patreon members asked him what he would do if he lost all of his money and was to start over again. His response was surprising, but not to me.

He said that the most important thing that he did and would do all over again would be to invest in Personal Development, many of the things that are featured in the 10 personal Development goals at 100 Goals Club:

- Read Books on Personal Development - Develop and improve his Communication skills - Set goals - Work harder on himself than for an employer - Be entrepreneurial

Steven is a perfect example of what someone can achieve who focuses on Personal Development. In his early thirties, he releases one podcast a day as his only responsibility and does this to help other people realize the potential in Tesla stock. He expects to have a Net Worth of more than $ 50M some day for which he has philanthropic plans to give it all away.

Kathy and I watch his daily you tube video daily after our morning exercise workout!

Below is a link to his YouTube channel.

https://www.youtube.com/c/SolvingTheMoneyProblem
---
A tribute to Joe
Last month, Kathy's father Joe passed away at the age of 89, just shy of his 90th birthday.

Joe was an amazing man who exemplified the importance of family more than anyone I know.

- He was happiest when he was with family

- He truly loved his wife and was forever grateful for having her in his life

- He had a great sense of humour and often had a joke to tell

- He and his wife raised a great family with four beautiful daughters

- He made everyone feel like they were truly important in his life

Joe was also a humble and simple man. His four daughters were truly blessed for having him as their father.

I will miss Joe more than words can say. He was an inspiration to me and reminds me of the importance of family in one's life.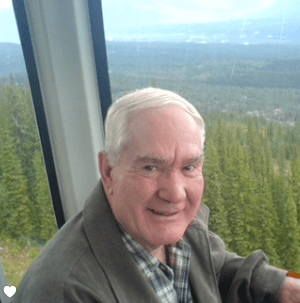 ---
Next newsletter . . .
My next newsletter will be on April 1st where I will focus on Hobbies and Passion goals.

Brian Klodt founder of the 100 Goals Club

CREATE YOUR HAPPY LIFE! https://www.100goalsclub.com

P.S. Spring is in the air, marked by the upcoming first day of Spring March 20th. Get inspired with your life goals and be ready to embrace the added energy associated with the Spring!