Hey!


Your Hobbies and Passion goals in 2022 and beyond!
Before we begin: If you enjoy this newsletter, please forward it along. If someone forwarded this to you, click here to sign up https://www.100goalsclub.com/life-goals-club-membership.html
100 Goals Club is a complimentary newsletter that specializes in helping you plan your life goals in 10 important areas.
1. Personal Development
2. Health and Fitness
3. Family and Friends
4. Hobbies and Passions
5. Financial
6. Career
7. Adventure
8. Travel
9. Lifestyle
10. Leaving a Legacy / Giving Back
You are part of an exclusive group of goalsters (someone who understands the importance of life goals)! This email is going out to 1315 email subscribers.
You are receiving this email because you expressed an interest in life goals. Remove your email by clicking unsubscribe below at any time.
---
Good Quotes (about hobbies)!
"Make time to follow your passion and never let your hobbies and interests take a back seat". Richa Dwivedi

"Passion is energy. Feel the power in focusing on what excites you" Oprah

"Ignoring your passion is slow suicide. Never ignore what your heart pumps for. Mold your career around your lifestyle, not your lifestyle around your career." @the_higher_self

"Always find time for things that make you happy to be alive" askideas.com
---
Why Hobbies and Passion Goals?
What are hobbies? Hobbies are an activity or interest pursued for pleasure or relaxation and NOT as part of your career or occupation.

Goals for exploring your hobbies and passions are one of the most important areas in terms of living a life that is uniquely you. There are literally hundreds (and even thousands) of hobbies, passions and interests which you can get involved with. It is important to establish your hobbies and passions before you turn 30, before your career and family take over.

*** While you can turn your hobby or passion into your career, you'll need to find a new hobby that is DIFFERENT than your career. ***

As children and youth, we develop our first passions, whether it be in playing sports, learning music or being creative.

As parents, our goal is to expose our children to as many hobbies and interests as possible in the hope that they will find something that they become passionate above.

As adults, we become so engaged with our other responsibilities (family, career . . . ) that we sometimes stop doing the things that we were once so passionate about.

In retirement, we all of a sudden have enough time to immerse ourselves in past and new hobbies, taking them to a new level. Or we don't have any hobbies and find retirement life boring.

To live a life that is meaningful and exciting, you need to either discover or rediscover things that you can devote meaningful time to. Hobbies and passions will do just that.
---
If you think your life is boring, get your self a serious hobby! Pick something you can develop a serious passion around. (the more time you put in to it, the better you'll get, the more passion you'll develop)
---
10 Hobbies and Passion Goals at 100 GOALS CLUB
What are hobbies and passions to design your dream life?

At the 100 Goals Club, use Life Goal placeholders #31 - 40 for a total of 10 Life Goals that are uniquely related to YOUR HOBBIES AND PASSIONS.

The following list is just the tip of the iceberg in terms of things that can become your hobbies and passions, interests and loves.

ANIMALS: Equestrian, Pets, Animal care Most animal lovers are truly passionate about owning their pets. I know a couple of people who take their dogs to dog shows and are very passionate about this. My daughter is an active equestrian rider and absolutely loves everything about horses. I'm sure she will remain this way throughout her life as her primary passion.

AUTOMOTIVE: Cars, Motorcycles Generally men are the ones passionate about their cars, automobiles and motorcycles. Fixing up old cars, collecting vehicles and maintaining them can be a very satisfying hobby for so many people. Most towns have car shows once a week during the summer months where car enthusiasts get together and show off their cars to each other and the general public.

CHURCH AND RELIGION: Spiritual, Volunteering Many are passionate about religion and supporting their faiths through active attendance of church events and through volunteering.

CREATIVE: Painting, Crafts, Sewing, Photography Artistic passions are some of the best passions. They can be hard to develop a career around and are often best to pursue as a hobby with your passion kept alive. I live very close to an art gallery that has guilds for people pursuing their hobbies and passions for photography, fine arts, sculptors and woodcarvers, rug hooking, hand weavers and spinners, potters and fibre arts. I plan on joining their photography guild one day.

HOME: Renovations, restorations, interior decorating With all of the home and garden TV shows (HGTV) and the emphasis on living in beautiful spaces, many have take up passionate interest in renovating and decorating their homes. With all of the big box stores for home renovations like Home Depot and Lowes, it has never been easier to learn how to become handy and learn how to make home improvements. For some, this can develop into a serious hobby or passion. INDOORS: Reading, TV, Movies, Games, Computers: Although these may seem like odd things to develop hobbies and passions around, many people derive happiness from immersing themselves with these activities. If they make you happy and you are learning something along the way, go for it!

MUSIC: Playing, Entertaining, Live Music, Concerts Music is one of my personal hobbies and passions and it gives me immense joy. Listening, playing, performing, practicing. I play acoustic guitar, bass guitar, electric guitar and drums. I've been learning since I was about 12 years old and continue to learn today. Many people have told me they have an interest in learning an instrument like a guitar, but they never follow through with it. You're never too old to learn and develop music into a hobby or passion. It's also relatively inexpensive to develop into a serious hobby, especially if you are smart about buying used instruments.

OUTDOORS: Fishing, Gardening, Hunting, Camping, Boating, Biking Outdoor activities are great to build hobbies and passions around, offering the benefit of physical exercise as you fish, garden, hunt, camp, bike etc. These are activities that you can enjoy your entire life, as age has little bearing on your ability to participate in as you grow old. They are also easy to enjoy with other friends or family.

SPORTS: Golfing, Swimming, Skiing, Tennis: There are hundreds of sporting type activities that you can participate in, learn, practice and compete in at a variety of beginner and amateur levels. Often these start as activities started in youth and dropped as you get into being an adult. If you truly enjoy these sports, why stop?? Playing sports is one of the best ways to help you achieve your health and fitness goals. Exercise with a purpose!

SOCIAL ACTIVITIES: Bowling, Billiards, Curling, Dancing: Activities which involve other people in a social setting are great hobbies and passions to immerse your self into on a regular basis. There are numerous clubs, teams and groups that meet regularly who all have a passion for the same activity. Find something that speaks to you and get involved!

The key in assessing what are hobbies for you is that they are not related to your career. If you turn your hobbies into your career, you'll need to find a new hobby, by definition!

Try writing out a list of everything that you have done in your life or aspire to do in your life that you believe you have a passion for. Your hobbies and passions are what will make you completely unique from everyone else you know. Don't forget them as you age and make time for them, even while raising a young family.

Visit https://www.100goalsclub.com/life-goals-hobbies-and-passions.html for the website version of this information.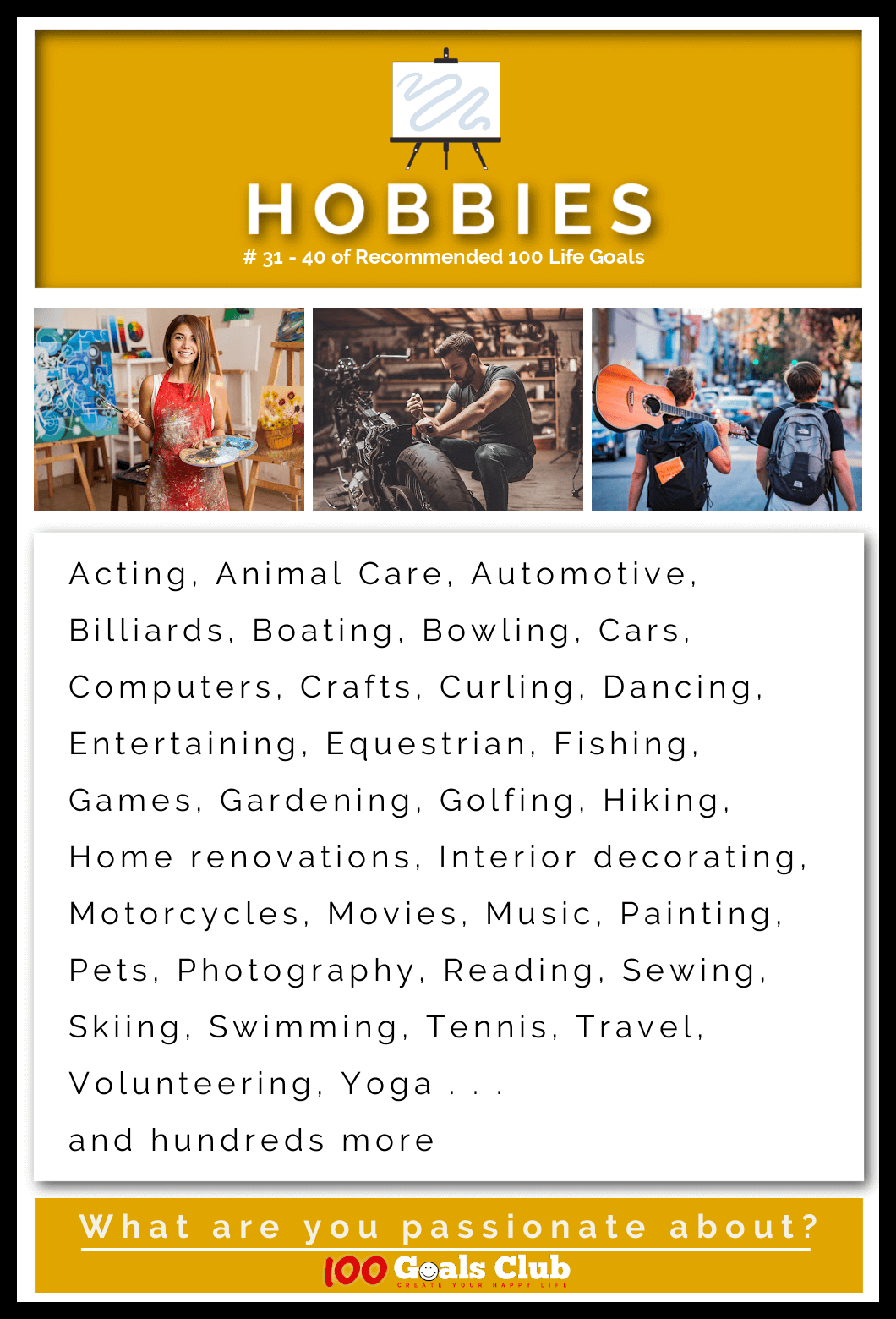 ---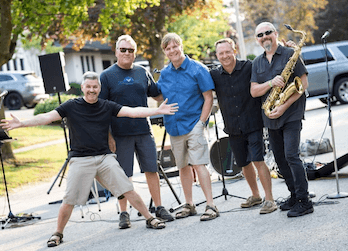 ---
My great hobby is that as a musician (bass guitar). The above photo was taken in 2021 before my band Dorian Wild performed at a charity fundraiser. I am the 2nd from the right standing next to Don, our SAX player! We will be performing again at the end of April 2022 at a club for our biggest fan's retirement party (brother of our keyboard player Kevin Coates). Music is a GREAT HOBBY for me and so many people!
---
Goal Achievement Tip
The following are some good tips if you are struggling to achieve your goals:

1. Write down your goals, or better yet, use my Goal Setting Worksheet you received when you signed up to 100 Goals Club!

2. Identify the goals that you will focus on THIS YEAR, as a subset of your master list of 100 goals.

3. Review your annual goals on Monday morning each week, before you begin your day.

4. Do at least 1 thing each day towards achievement of one of your annual goals. If you are really ambitious and motivated, DO 3 THINGS!

5. KEEP A JOURNAL WHERE YOU RECORD YOU LIFE EVENTS AND PROGRESS TOWARDS YOUR GOALS.

Make these 5 steps a daily/weekly HABIT. If you do each of the above, you'll confidently move in the direction of GOAL ACHIEVEMENT.

Celebrate any small or large successes along the way!

I am currently reading the book "Better than Before" from NYTimes bestseller Gretchen Rubin and author of "The Happiness Project". The book is all about developing HABITS and is an excellent read! If you can master your habits, you master your life.
---
Next newsletter . . .
My next newsletter will be on May 1st where I will focus on Financial goals and how you can become a millionaire and the money needed to achieve your life goals!!

Kathy and I will be back towards the end of April from our daughter's wedding in Mexico and I'll share a tidbit or two!

Feel free to reach out to me at brian@100goalsclub.com and let me know if you've written out your life goals and anything you'd like to share with me about your success or challenges in achieving them.

Brian Klodt founder of the 100 Goals Club

CREATE YOUR HAPPY LIFE! https://www.100goalsclub.com

P.S. If you haven't read my book "100 Life Goals" and if you find your motivation slipping, purchase my book and get inspired!

https://www.amazon.com/dp/1727154452

P.S.S. If you have a milestone birthday coming up (i.e. 20, 25, 30, 35, 40, 50, 60, 65, 70, 75 and even 80), plan on doing a major review / revamp of your Life Goals. If you haven't started yet, let this upcoming date motivate you to do so!