Goal setting worksheet for 100 life goals you can set right now!
A great way to enter and track your goals is in a Goal Setting Worksheet, an excel based spreadsheet designed specifically for the 100 Life Goals book and the 100 Goals Club. 
This is the tool that will help you create your happy life, spanning all areas of your life in these TOP 10 life goal categories.  Design your balanced life, recognizing these areas will take a higher meaning depending upon the phase of your life you are in now.  
Goal setting worksheet | 4  reasons you can't live without it
The Goal Setting Worksheet available below comes complete with:
100 Life Goals printable template  - of all 100 Goals Club recommended life goals
Life Goals List - more than 600 life goals for you to select from in designing your own life
Goal Setting Template - a place for you to record your own list of goals (excel based)
Annual Power Page - a way to focus your life goals down into manageable annual goals, while looking at your big picture
1 - 100 Life Goals printout
The entire list of 100 Life Goals as recommended in the 100 Life Goals book is included in the download for you to print out your own handy reference sheet (as below).

2 - List of Goals
All of the recommended goals written in the 100 Life Goals and more are conveniently listed in the "List of Goals" tab of Goal Setting Worksheet, across the 10 Goal Areas including:
Personal Development
Health and Fitness
Family and Friends
Hobbies and Passions
Financial
Career
Adventure
Travel
Lifestyle
Leaving a legacy / giving back
The List of Goals includes more than 600 individual life goal ideas that you may choose from:

10 Target Goals for each Life Goal category 
10 Outrageous Goals for each Life Goal category
Other goal ideas recommended in the 100 Life Goals book
Bonus Personal goals that I've set for myself over the past 25 years
This "List of Goals" spreadsheet within the overall goal setting worksheet contains convenient columns where you can "X" mark the goals that are of interest to you, or number your own goals from 1 to 100 as you deem important for your own life.  
Consider this a master work sheet where you can reference a library of well designed goals and decide which ones are right for you!
Add additional goals to this list which are unique to you and ideas you have for your life.  
This is your "brain storming" area to let your imagination run wild.   Don't rush through this.   

List of Goals with more than 600 Life Goals for you to brainstorm from.
3 - Goal Setting Worksheet
One you have completed your life goal brainstorming, the most important feature is the Goal Setting Template tab.  This is your key to recording your own 100 Life Goals or any number of Life Goals which you prefer.  Choose and write, 5, 10, 50, 100 or more!
To make this easier for you to complete, the left hand side of the spreadsheet (tab) includes reference to the 100 Life Goals recommended by 100GoalsClub.  In the blank template to the right, you may . . . 
Pull forward the goals that you brainstormed in the List of Goals tab.
Adopt any or all of the recommended 100 Life Goals that make sense for your life
Add your own Target Goals 
(what you expect to achieve in your life time or within a specified time frame)
Add your own Outrageous Goals 
(what you would like to accomplish in your life, your true dream goal . . . but you're sure you can not achieve at this point and you're not ready to commit to).  Just writing out your outrageous goal can often inspire you to achieve your more realistic Target Goal. And who knows . . . you may actually achieve your outrageous goal! 

Specify the time frame for completing your life goal 
(i.e. This year,Next year, 3 years, 5 years, 10 years, 15 years, 20 years, 25 years, Lifetime)
Specify the frequency for completing your life goal 
(i.e. Habit, One-time, Daily, Weekly, Monthly, Quarterly, Annual, Bi-Annually, Decade)
Enter your own personalized list of goals using this Goal Setting Worksheet (template).   This very act could change your life forever!  
Annual Power Page
It will be amazing when you finally craft your personalized list of 10, 20, 50 or even 100 Life Goals and give each one a time frame.  
The next step is to develop a plan to work on your goals for the remainder of this current year.  That is where the Annual Power Page comes in.  
The next tab of this spreadsheet is where you record the specific goals you decide are important to work on this year.  
Only choose the ones that are important this year.  
Give yourself permission to leave your other goals on your radar for deciding next year or not if they are important to start working on.
This allows you to track and keep all your life goals in mind while you decide specifically which ones are important this year.
Most importantly, once you've created your annual power page goals, you can simply filter the goals for this year and create a handy reference printout to print as many copies as you'd like and place in a prominent place(s) you will reference often!
---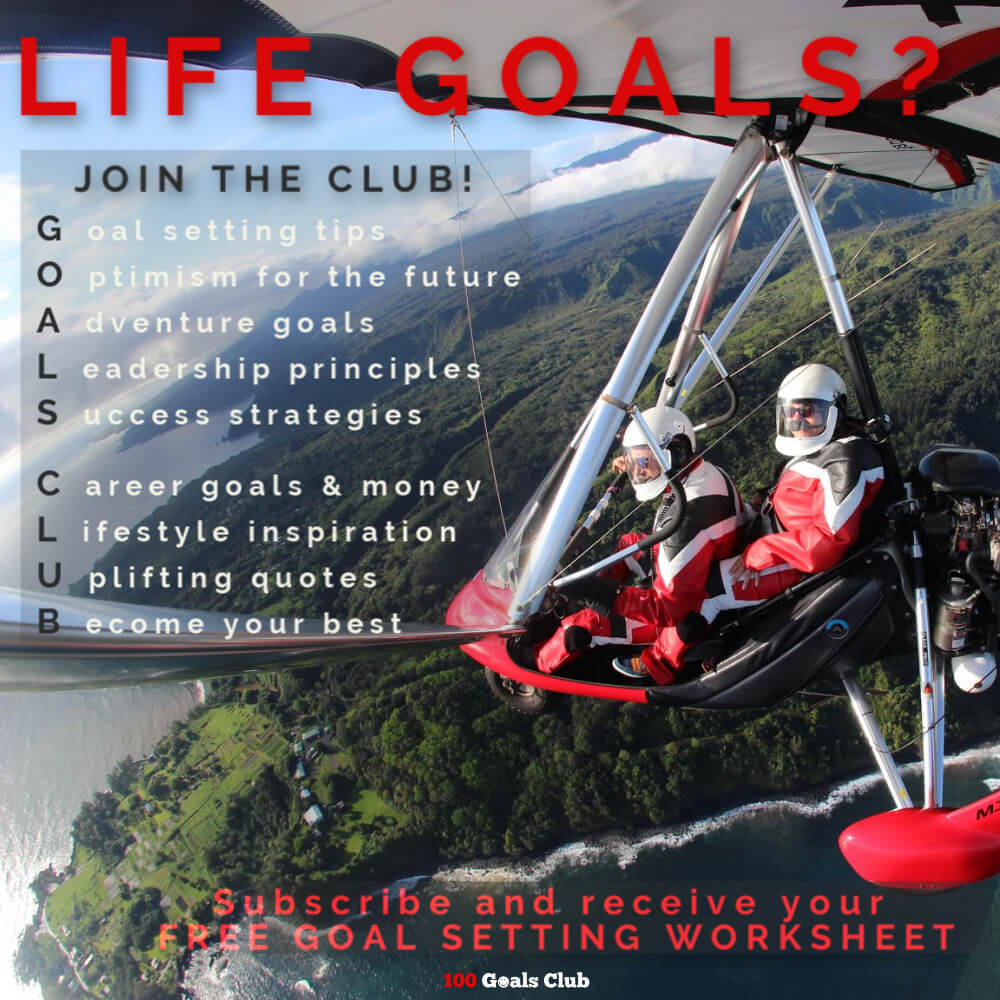 Become a Goals Club Member and receive your
FREE GOAL SETTING WORKSHEET
as a bonus, with hundreds of life goals to choose from to create your life of adventure. 
As a membership bonus, you will receive free newsletters for inspiration on writing and achieving your LIFE GOALS!!
---
Last updated:  August 4, 2020