100 Life Goals to achieve before you die! 
100 Life goals - How much time do have you have invested planning your life?  Most people spend more time planning a birthday party or vacation.   Where do you think you'll end up if you don't plan well?  Why leave your future to chance?  Life is short.  
Plan now what you want to get done before you die!  Life goals!
Do you think you could write a 100 life goals list?
Why not decide to live life abundantly by designing your own personalized list of 100 life goals you will achieve over the next 10, 20, 30 years?  And why not design your life where you look back and say "WOW, I can't believe I did all that!
What would a good life look like to you?    Let me help paint the picture of what a good life could look like.

Enjoying abundant health, energy and vitality


Traveling the world to exotic locations and experiencing different life cultures


Spending money where it is not an obstacle to living the life you've designed


Having a close relationship with your partner


Experiencing nurturing relationships with your children


Enjoying a fulfilling career as an employee or business owner.


Having strong morals and core values that guide your life and decisions


Living in your custom designed dream house


Owning a cottage or vacation retreat on a lake, ocean or in the woods


Driving your dream car


Helping others less fortunate than yourself


Living to 90 or even 100 years old, doing things that people half your age are still doing


The good news is that you are designing your life, and no two lives are the same.   Your dream life will be different to everyone else you know.     
We start from different places in our lives.   
Some are fortunate to have been born to families in countries that already have a high level of prosperity.  
For some, these life goals will seem like an impossibility.  For others, you may already be living the dream life that countless others can only strive for.   

The main point of the 100 Goals Club is to inspire you to design your own unique life, instead of just letting your life happen.   And while you're designing your life, why not design a life of WOW?    Create your life of adventure through writing down well thought out life goals!             
Living with no regrets requires you plan your life . . . 
The main concept of this club is to design your life so well that you end up at the end of your life with few regrets for not having lived your life a certain way.  
Too many live in our comfort zone.    If you live in your comfort zone your entire life, there is a high certainty that you will have some major regrets in your life.  
There are many people when questioned during their last years of life about parting with any regrets, who respond with something like: I wish I . . .
Risked more
Loved more
Worked less
Let go of my grudges
In fact, nurses in hospitals or hospices are the ones that hear the regrets of the dying, expressed as:
I wish I'd had the courage to live the life I dreamed of, not the one that was expected of me.
I wish I hadn't worked so many hours at work, at the expense of my family.
I wish I had learned to express my feelings.  Supressing feelings leads to poor relationships and regrets of what could have been, had you had the courage to make things right.
I wish I had stayed in touch with my friends.
I should have saved more money for my retirement.
Of these, the number one regret that people have on their death bed is that they did not pursue their dreams and life goals. 
Don't be one of these people—start living a life that you design.
When your health and youth have faded, you'll reflect on what the important things in life are, and you will realize what is truly valuable . . . your friends and family.   That is why the book of 100 life goals has an entire section on friend and family goals.   
There is no point in developing high net worth through working hard at your career or business, achieving all your life goals but achieving a failing grade with your family.   The most important people are your friends and family.    Live your life so that they are there for you when you need them the most.  
The purpose of this site is to inspire you to live your own unique, purposeful life.   
Achieving just some of these 100 life goals, or modifications to these 100 goals, is something you can do.  You can go and live the life you design.   
Said another way . . . Live with No Regrets!    

The 10 Essential Life Goal Areas for living a balanced life.
In designing your balanced life, one with no regrets, write your life goals in categories.  
You'll find many variations of life goal categories.  This list is one of the most complete.   
The above Goal areas are listed in a rank order that represent the priority in which they should be viewed within the context of your life (in my opinion).  You may re-rank or re-write them.  It's your life. 
Our success in life begins with our own commitment to Personal Development, which is the reason I've started with it. 
Next is your own personal health.  Without good living health, the rest of our goal accomplishment and life suffer.  
Next is Family and Friends.  There is no point in being successful with your career and lifestyle goals without a strong foundation of family and friends.  
Then is your hobbies and passions, which are the things you truly love doing.   These need to be a priority in your life, otherwise they will fall victim to your career, which is the next important life goal area. 
Goal categories 7, 8 and 9 of the 10 Life Goal categories are like "icing on the cake", and will lead to further life fulfillment . . . travel, adventure, lifestyle,  
These goal areas, like hobbies and passions, help create a life that is exciting, bold and full of adventure. The challenge is that they require money, often lots of it.  When you do well with your financial and career life goals, you'll be able to better enjoy the fruits of your labor.  
The challenge with listing these Goals in a ranked sequence like this is that this is just my personal opinion, and you may have a different view.  That's okay.   The most important thing is that you are setting and achieving balanced goals across this list of 10 Life Goal areas.
Most of the Goal setting self-help books and programs I listened to in my early days seemed to focus on the exciting goals, the more traditional goals related to Lifestyle, Travel and Adventure goals. 

These are the goals that are easier to write and ones which you can get excited about.   These life goals are important to living a good life too.   They are often the goals that provide the "why" do I need to strive and improve and grow.  
Why do I need to develop myself and have a great career, besides providing for my family?  It's to live the good life, to travel the world, to live in a nice house, to not have to worry about money constantly!

The 100 Life Goals are goals that I've modified from my original list of 100 goals created at the age of 30, to have more universal appeal to the majority of people living in the developed world.
While they are goals that I think you will find important, you may find some of them to be unimportant to you.  If you do, no problem in changing any of them or all of them. 

My desire is that they give you ideas and inspire you to create your own list of 100 Life Goals. 
Take the time to design the life goals that inspire you to live fully.
---
Unlike most content on the web which is guided by the desire to make money (not a bad thing), I have nothing to sell on this site other than a book.   My advice is based on practical first hand experience and knowledge, not on trying to direct you to a financially driven outcome.   
Many sites and social media will focus on the best way to make money, whether it is exclusively through real estate, stock investing or other types of side hustles.  Often there is a financial incentive to "guide" your purchase of something.  My wife and I have all the money we need to live an amazing lifestyle without working another day in our life,  based on all the principles explained on this site.  
This site presents an unbiased view on how to create a good life, while looking at your entire life, not just through a narrow lens.  I update this site as my views of achieving success, happiness and life purpose evolve through first hand experience.  
---
The 100 recommended life goals from the 100 Life Goals Book . . . 
From my book "100 Life Goals", the following is a summary of each goal across the 10 life areas. These are goals that I have set for myself and represent the most important life goals which I believe to lead to a life well lived.
For you, may they be a starting point for reflecting on your own personal goals. 

Select some or all of these goals for yourself!  We all come from different backgrounds and different ideas on what is important throughout our life time. 
May this list inspire you to write out your own list of life goals, whether 1, 10, 50, 100 or more. 
Personal Development Life Goals . . .

to set your foundation for success!

Health and Fitness Life Goals . . .


to give you long life and vitality!

Family and Friend Life Goals . . . 


to cherish the most important people in your life!

Hobbies and Passion Life Goals . . . 


to create a life that is uniquely yours!





The next 10 goals are for you to select from your own hobbies and passions. The following is a list of common hobbies to get you thinking about the possibilities:

Acting, 
Animal Care, 
Automotive, 
Billiards, 
Boating, 
Bowling, 
Cars, 
Church, 
Computers, 
Concerts, 
Crafts, 
Curling, 
Dancing, 
Designing, 
Entertaining, 
Equestrian, 
Fishing, 
Games, 
Gardening, 
Golfing, 
Hiking, 
Home renovations, 
Hunting, 
Interior decorating, 
Motorcycles, 
Movies, 
Music, 
Painting, 
Pets, 
Photography, 
Reading, 
Religion, 
Sewing, 
Skiing, 
Spirituality, 
Swimming, 
Television, 
Tennis, 
Travel, 
Volunteering, 
Yoga 

. . . and hundreds more 

31 - List your unique life goal here

32 - List your unique life goal here

33 - List your unique life goal here

34 - List your unique life goal here

35 - List your unique life goal here

36 - List your unique life goal here

37 - List your unique life goal here

38 - List your unique life goal here

39 - List your unique life goal here

40 - List your unique life goal here

Financial Life Goals . . . 


to provide you the money to live the life you design.

Career Life Goals . . . 


to life a fulfilling life and earn the income you deserve!

Adventure Life Goals . . . 


to experience life in a way that inspires you!

Travel Life Goals . . . 


to experience life in ways that celebrate your life.

Lifestyle Goals . . . 


to experience life's rewards for building your perfect life!

Giving back and Legacy Goals . . . 


to make a difference in the life of others!
There are some amazing testimonials and endorsements recommending that you set goals and life goals. Check out my goals quotes page for quotes from famous people on the importance of goals. 
One of the great commencement speeches of all time speaks to the importance of goal setting and LIFE GOALS.  To check out an amazing speech by Denzel Washington, click here.   The part of his speech focusing on goals starts at about the 2 minute marker.
These are my recommended 100 Life Goals. 
After reviewing this list, what would you remove, replace or change?  What would your own 100 Life Goals list look like? 
Understand the top 10 reasons why is goal setting important to your future! 
More importantly, join the club. 
G oal setting tips - everyone needs help writing and achieving your goals
O ptimism for the future - positive people are more fun to be around and live longer!
A dventure goals - the most memorable goals usually involve adventure
L eadership principles - important for growing your career and your life
S uccess strategies - necessary to develop your financial resources 
C areer goals and money - essential to living a fulfilling life
L ifestyle inspiration - why not live a great lifestyle while you're at it!
U plifting quotes - start every day with an inspirational quote
B ecome your best - why not be the best you can be?
There are no fees to join.  You will receive a free goal setting worksheet (directly from me) and periodic newsletters.  
There is nothing as important as periodic reminders on topics that matter, to remind you about the importance of key areas in your life.
Health and fitness.  Hobbies and passions. Finances. Adventure.  Travel. Lifestyle.   Legacy.  
It's all covered here in one of the most comprehensive sites on life goals!  
I'm living proof that focusing on life goals can lead to a great life. Check out my "about" page for some of the good things my family and I have achieved in our life. We travel the world, own our own monopoly street,  drive our dream car and have great children with many successes of their own.  
It all started more than 25 years ago when at the age of 30 I wrote out 100 life goals!
Sign-up now!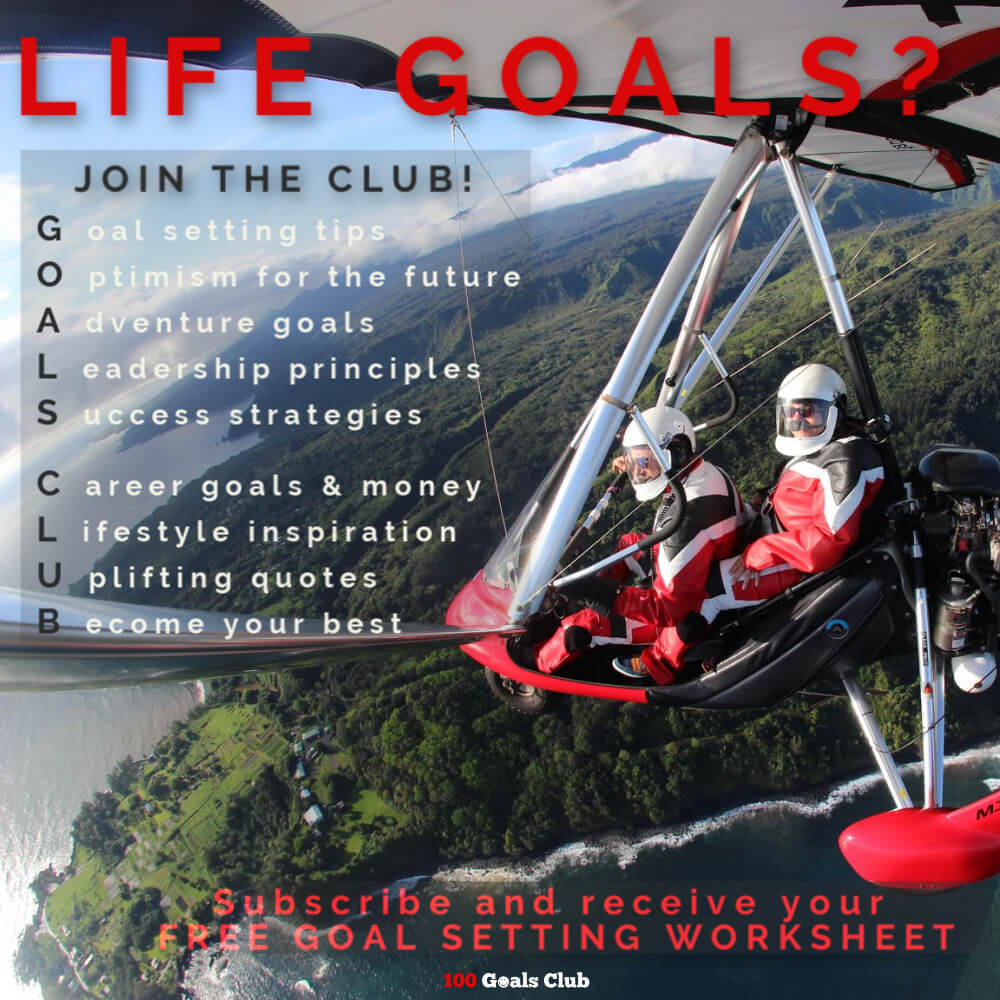 Become a Goals Club Member and receive your
FREE GOAL SETTING WORKSHEET
as a bonus, with hundreds of life goals to choose from to create your life of adventure. 
As a membership bonus, you will receive free newsletters for inspiration on writing and achieving your LIFE GOALS!!
---
To learn more about how using a goal setting spreadsheet could be the start for your new happy life, check out my Goal Setting Worksheet!
---
Last Updated:  April 7, 2023