48 - Own investment real estate . . .

why invest in real estate to support your 100 life goals!
Reasons why invest in real estate: Wealth through real estate investing goals is the foundation of a high percentage of high net worth individuals,   Because there is only a limited supply of land, and the population of the world continues to increase at record pace, real estate will continue to increase in price when viewed as a long-term investment. 
Why invest in real estate
There are several distinct and unique advantages as to why invest in real estate and to establishing real estate investing goals.   
Real estate is something the average person can understand.
You can invest in real estate while holding a full-time career, and treat it as your side hustle/hobby.

 

You can rent your real estate and have tenants pay off your debt.

 

Over time, you can improve your positive cash flow as rents increase at the going market rate, while your mortgage payment remains more constant (based on your mortgage term and prevailing interest rates).
By buying property in up and coming neighbourhoods, you can multiply your equity and cash flow gains as the desirability of living in your neighbourhood increases.
You gain the benefits of controlling a very large asset, and the gains associated with it, with only a small down payment (typically 5 to 20%), such that you maximize your return on investment.
You increase the value of your real estate through your own physical efforts of learning to do home renovations yourself instead of paying someone.
Real estate investing goals and becoming a millionaire
Some people strive to become millionaires to support their retirement goals.
Why invest in real estate? Real estate investing is a proven way to become a millionaire, as long as you invest for the long term.
As a simple example, let's say you purchase a home or condo for $300,000, which produces a break-even cash flow.    After having your tenants pay off your mortgage over the 25 years, you will own the house outright; but after 25 years, the house is likely to be worth at least double what you paid for it.  At 5% appreciation per year (quite possible in some locations/markets), your $300,000 house will be worth more than $1,000,000.   If homes don't appreciate 5% per annum in your area, that's okay too.  You will still have a substantial paid off asset when you are ready for retirement.
"Real estate cannot be lost or stolen, nor can it be carried away. Purchased with common sense, paid for in full, and managed with reasonable care, it is about the safest investment in the world." – Franklin D. Roosevelt
Our personal story - Why invest in real estate?
One of my goals more than 25 years ago was to become a millionaire. I had no idea on how I would do this. My Karate Sensei was a real estate investor and I decided I wanted to follow in his footsteps.
Real estate investing done wrong . . . the headaches
My story begins in 1989 at the age of 28 years old when, at the peak of the Canadian real estate market, I purchased my first house. My Karate Sensei advised me that I would make money no matter what I bought. It was an existing duplex, a two and one-half story Victorian brick house in a low-income neighbourhood. I bought it for $150,000.
Although hindsight is 20/20, looking back I purchased a house doing everything wrong. I bought a good house in a poor location and purchased it at the worst possible time. The conventional wisdom is that you should buy the worst house on the street in the best location. I did the exact opposite. The house dropped to approximately $ 110,000 2 years later.
The house came with an existing tenant in the second-floor apartment. The house also had a large unfinished basement. A friend built a basement apartment for me (with some of my limited experience help), and I then had a triplex. After living on the main floor for one year, my fiancé moved into the basement apartment, and we worked to complete the finishing touches there for one more year. In 1991 we were married, and we both moved from our respective apartments to the second-floor apartment, where we fixed up that unit and continued to live there for our first year of marriage.
My wife and I owned this house for 25 years before selling dealing with some of the following headaches and questioning why invest in real estate:
Numerous non-paying tenants

Irresponsible tenants who let a big dog live in the house unattended for long periods of time and left to do its business on our hardwood floors, doing a mid-night move and leaving piles of garbage and dog poop throughout (and a massive restoration effort)

Flooding in the basement and 2+ basement renovations to deal with water issues and sump pump failures (avoid basement apartments in old houses)!

Evicting a tenant for non-payment, only to find out that they were drug dealers

Finding out a 2nd floor tenant did a sublease of the attic without informing me to a hoarder who brought in a massive bed bug infestation. Three dumpsters worth of hoarded material disposal

Spending thousands of dollars to hire a heat treatment company to heat up the entire house to a temperature that would kill all the bedbugs, not once but twice

Dealing with a contractor who abandoned us after completing only 50% of a major renovation with shoddy work, paying more than $ 50,000 extra to get the job completed by a more reputable contractor
Our first rental property - a bad investment with numerous headaches!
After owning this property 25 years and selling for $ 340,000 (after more than $ 125,000 in expenses), my wife and I had enough and decide to it was time to sell. In hind sight, this was another bad decision as it turns out we sold too early. We missed large appreciation of more than 50% that has taken place in the last 5 years.
If we would have stopped at this as our only investment house, we would have seriously questioned why invest in real estate. 
Real Estate investing done right . . . 
After the third year living in the above triplex, we decided to move back to my hometown, about 20 minutes away. It was in an up and coming downtown neighbourhood on a picturesque street, just a few blocks up from Lake Ontario and two beautiful parks. In short, a much better location.

We began to raise our family in what was just a small 950 square-foot Victorian century home. We had outgrown the house with the birth of our second child, but we loved the neighbourhood location so much we continued to live in the house. We hired an architect to design an addition for our home with the thought we would make the house bigger to live in, but in 2003 the house next door came up for sale. The house was very similar except that it had a large addition in the rear which resulted in a large three-bedroom house. Since we had been receiving income from the triplex for all those years it was a natural thought to purchase our neighbour's house and rent out the house we had been living in. The house was more than double the price we paid for our first house.
In 2005, the third of what was only four houses on our block came up for sale. Already owning two of the four houses on the same street, it was again natural for us to think about purchasing the third house. One of my 100 life goals I had set a goal at age 30 was to become a millionaire and real estate was becoming our main method for the achievement of this goal. In this case, the market was hot again, and we knew that we would need to act quickly.
The night the house came up for sale, we approached the seller's real estate agent directly about purchasing the house. There was going to be another offer made on the property even though the house had just come up for sale. To ensure we were successful with our offer, we proposed $2,000 more than the asking price and became the proud owners of the third of four houses on our street.
The house was being used by the prior owner as a hair salon and had been set up to be very eclectic in terms of paint colours (gold crown moulding, orange walls) and kitchen finishing. The kitchen cupboard doors actually had colourful gems and decorative colours affixed to them. We renovated this house and turned it into a rental unit.
In 2006, the owner of the remaining house on the street approached us and asked if we would be interested in purchasing their house should they ever decide to sell. Six months later, at Christmas time, they left a note on our door saying they wanted to talk to us. It turns out they had an opportunity to move out west and were looking to see if we wanted to buy their house. With a loan from my parents for the down payment, we were able to purchase the fourth house on the block.
We now owned an entire street of four heritage century homes, all built in the late 1800's, three of them protected with heritage designation. It was difficult to decide whether to stay in our second house or move to this fourth house.
The decision to move once again was made due to the larger lot, a wood burning fireplace in the living room, and granite counters in an updated kitchen. The trade-off was that the house was only about 1,200 square feet, smaller than the second house we had lived in. Regardless, we loved this new house. Our children had now lived in three consecutive houses all on the same street.
In 2017, our real estate story of owning all four houses on the street was featured in a real estate investment club's newsletter and we were honoured as members of the month. I was asked to speak at one of their member events on how we were able to accomplish this, and about the unique rental strategy with short term rentals.
With our Gables on the Park homes, we've still had our share of headaches, but more related to old house issues versus bad tenant issues (like cleaning out plugged septic lines with sewer snakes late at night).
This reinforced the answer to the question often posed as to why invest in real estate.
Is owning investment real estate worth the headaches?
For us, there is no question, Real Estate investing was worth ALL the headaches.

It's understandable - Real estate is something the average person can understand. You can increase your returns by investing your own "sweat equity" in terms of doing your own repairs and renovations.
It can be done part time - You can invest in real estate while having a full-time career and treat it as your "side hustle" or hobby.
Tenants pay your mortgage - You rent out your real estate and have your tenants pay off your debt. After the term of the mortgage, typically 25 years, you will own the house outright.
Positive cash flow - Over time, you can raise the price of your rent to improve your positive cash flow. Positive cash flow means that you'll have money left over after paying for all of the expenses associated with owning the property. Our homes have more than $ 1,000 in positive cash flow each, after just 15 years in owning them.
Equity appreciation - This is the big pay off. If you buy in good locations with good demographics and population growth, you can expect your real estate to double or triple within 10 to 25 years.
Because of our rental properties, we have developed and been blessed with high net worth and cash flow allowing us to live a dream life.
It helped finance international travel to support our first daughter to compete around the world on the Canadian National Rhythmic Gymnastics Team. We were able to fund our second daughter's equestrian life, including more than ten years of lessons and competitions, leading up to her competing at one of the top equestrian events in Canada, The Royal Winter Fair.
We've also enjoyed traveling to more than 20 countries including Maui, France, Japan and Spain. All of this is a result of having built up good positive cash flow and equity in buying our neighbours' houses.
Would we do this again, heck yes! Owning investment real estate is worth the headaches. How else can an average couple like my wife and I (both employees), develop such a significant lifestyle and net-worth?
One of my goals to help as many people as possible learn how to write out their life goals, something I attribute to our success with real estate investing!
Life Goals.  Live Your Life.  Your Terms. 
Brian was a member of Rock Star real estate's VIP investor group, connected with some of the best local real estate investors across all of Canada.  Their motto is "Your Life. Your Terms".  
The two owners of the brokerage, Tom and Nick Karadza, are two of the most passionate guys you'll ever meet, working with real estate investors across the Greater Toronto Area (GTA) and helping fellow Canadians learn how to properly invest in real estate.  They answer the question "Why invest in real estate" better than anyone I know.  Period. 
They hold regular classes of all kinds on how to buy investment real estate, how to get financing, how to deal with tenants as well as conduct large workshops and events on all aspects of real estate.
I've been fortunate to use their services in both buying and selling real estate.
Recently, Tom asked me to present my story of "Own the Street and 100 Life Goals" on one of their weekly "Your Life Your Terms Show" podcasts that goes out to thousands of their investors.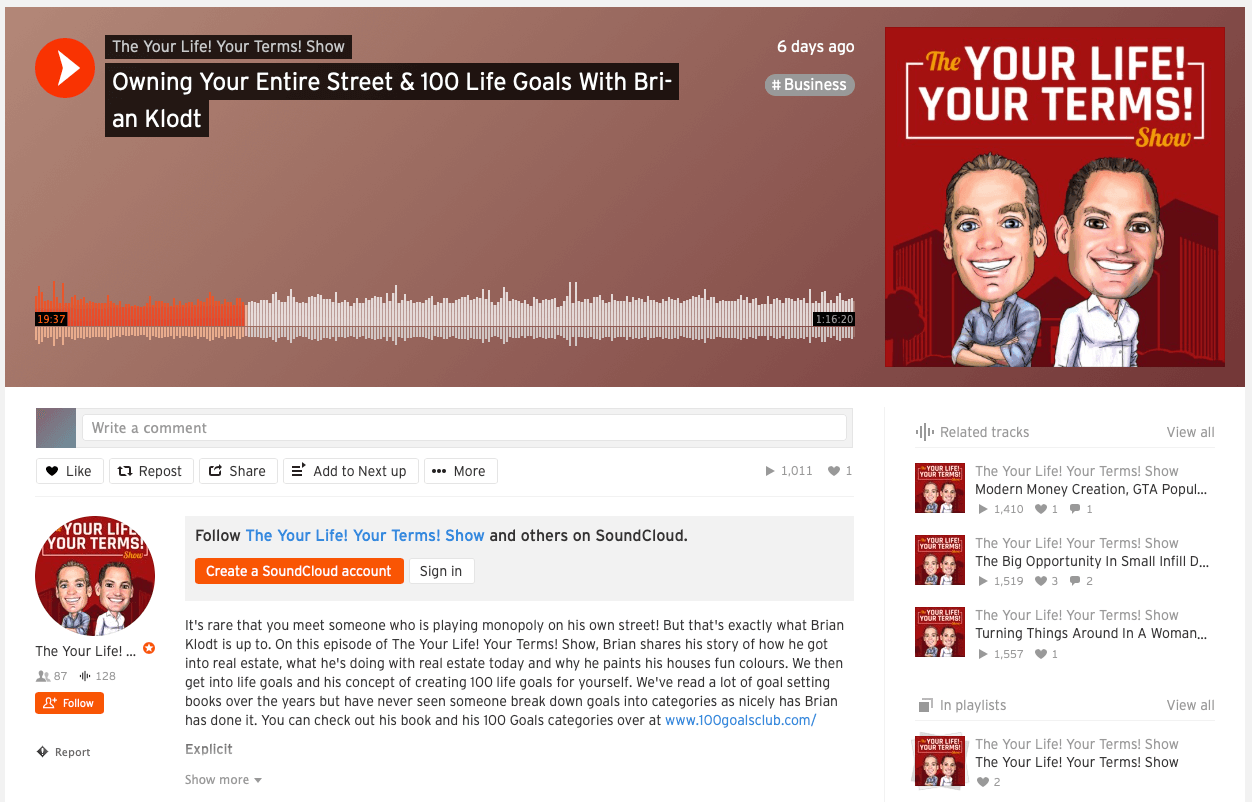 Check out this 1 hour pod cast now and learn all about my life story with Real Estate and Life Goals!
 CLICK HERE Own the Street and 100 Life Goals Podcast. 
Ever thought about buying your neighbours house?
I wrote a book in 2018, Buy Your Neighbours House . . . a strategy to developing wealth on your own street, based on our success owning our Gables on The Park properties—4 heritage homes in a beautiful downtown location close to Lake Ontario. 
Interested in understanding further why invest in real estate?   The book explains that there are several distinct and important advantages of owning property in close proximity to your personal residence, and how to know if it makes sense for you to establish these real estate investing goals.
| | |
| --- | --- |
| As a successful real estate investor, Brian Klodt is featured in The Authorities, with a chapter entitled "Buy Your Neighbours House" | About the author |
---
Buy the Authorities book, featuring the chapter on why to "Buy your neighbours' house" . . . The # 1 Real Estate Strategy to Develop Wealth on Your Own Street


Investing in real estate as a "hobby" by purchasing all four homes on their street has been one of the key reasons for Brian and Kathy's success in accomplishing so many of their life goals. It's been so important to being able to live their dream life, that Brian has authored a book on the "buy your neighbour's house" method of real estate investing to help others interested in real estate investing goals.
The Authorities book in which Brian is a featured co-author contains powerful wisdom from remarkable authors:
Raymond Aaron - Co-Author of Chicken Soup for the Parents Soul and Canadian Soul

Marc Shimoff - NY Best Times Best Selling Author
Dr. John Gray - NY Best Times Best Selling Author and author of the book "Men are from Mars, Women are from Venus"
In this chapter book, I explain why invest in real estate, and specifically why buying your neighbour's house (or a house in your neighbourhood), is a desirable way to develop your wealth, support you in your quest to live a good life and help fund  you in your retirement years.
Your neighbour's  "house" could also be a condominium, townhouse or another type of residential property. I explain in detail the reasons for doing so along with helpful information on how to go about doing it.
Real Estate is one of the best vehicles for the average family to develop long-term wealth and transform financial health.
The chapter content of this book about developing real estate wealth includes:

Why invest in real estate? 

Why buy your neighbour's house?

How to buy your neighbour's house.

The BIG payoff.

What does it take to do this?
What if Real estate investing goals aren't for you?
Owning physical real estate isn't for everyone.  You need to have a certain temperament to deal with tenants and maintenance issues, or trust others to look after this for you.  If you can, the payback can be tremendous!  
For those that can never see themselves as landlords, there are other ways to invest in real estate and still benefit, such as through lending as a silent partner in a joint venture agreement, or investing in a real estate investment trust (REIT).  Some REIT's are returning more than 20% per annum!
REITs were established for small investors not interested in the responsibilities of property maintenance or managing tenants directly, to be able to invest in real estate without the large capital required to purchase real estate directly, yet be a part owner in the underlying real estate.

Suggested Goal(s):   Buy a rental property as one of your real estate investing goals.
Your Outrageous Goal:   Own multiple investment properties.
Return to financial goals.
---
---
Last updated: June 27, 2020