90 - Design your dream house
Reason for this Goal:   Of all the things we do, the place we spend the most time is in our house (or apartment, condo, etc.).  We all have our own ideas of what it would be like to live in our perfect space, inspired by the shows featured on Home and Garden TV (HGTV), and the website, HOUZZ, and all the examples on TV and in the movies of people living in amazing spaces.  Given that we are talking about lifetime goals, why not decide that someday you will live in your dream house.
Design your own Dream House with all the features . . . 
The features that many consider ideal when planning and designing their dream house include:
Open concept living space
Multiple Gas fireplaces and/or a wood burning fireplace
Spacious rooms
Walk-in entry and bedroom closets
Spa-like bathrooms
Multi-media and sound throughout
Lower level basement walkout 
Outdoor living space with covered deck with fireplace
Main floor or upstairs laundry room
Man cave retreat and games room area
Ample play area space for your children/family
Ensuite bathroom(s)
Multi-car garage
Backyard oasis landscaping
Entertainment deck area
Inspiration for your dream house
There are so many things you can do to get inspiration for your dream house, including:
Reading house and home magazines
Going to the website www.houzz.com to see thousands of inspirational photos 
Attending a home show in your area.
Surfing the internet for home inspiration ideas and images
Driving around nice neighbourhoods 
Looking on-line at real estate brokerage sites and homes for sale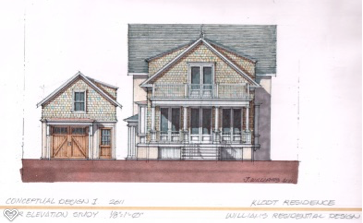 This was the original design of our dream house addition to our century house, which we went on to build in 2013-14. We hired a prominent local architect for the design.
No two dream houses are alike . . .
No two dream houses are alike.  Your dream house may be entirely different than someone else's.  It's all relative to what has been your experience growing up and living your life to date, in terms of what you're inspired to consider your dream house.  In our case, my wife and I took our 1886, small heritage home (3-bedroom, 1 bathroom), and turned it into our dream home with a large renovation in 2014, adding many of the features described above.   We had every aspect of our house carefully designed, and we used the services of a professional architect and interior designer to help us.   While it was a considerable amount of money, we are so happy to be living in a space that we custom designed to meet all of our needs and desires.   Every day, we are thankful for being able to live in our dream house.

Unlike the goal above for purchasing a dream vehicle, money you put into your dream house is an appreciating asset, which you can enjoy as it appreciates over the long term.
Suggested Goal(s):   Design your dream house and live in it!
Your Outrageous Goal:   Live in your dream house before the age of 40.
Return to lifestyle goals. 
---
---
Last updated:  February 19, 2022