Top 10 reasons why Canada is the best country in the world to live!
Why live in Canada?  Canada is consistently ranked as one of the top countries to raise a family and develop roots.  It's also when of the best countries to visit.  We have lived in Canada our entire lives and  have also travelled the world.   Following are the top reasons I believe Canada is one of the best countries to live in (and visit):
Why live in Canada?
We have a high standard of living - Canada is one of the top western countries in the world and it's people enjoy a high standard of living.  There are good jobs available, good incomes and quality housing.  
Good political system - While all people complain about their politicians at times, Canada enjoy as fair and mature political system which is the envy around the world.   
Good health care - Health care for all Canadians is a protected right of all Canadians. We have free access to the best health care in the world.  There is rarely any worries when you have medical challenges as the government's health care system looks after us.  Good Doctors, Nurses and health care professionals across all urban centres. 
Natural beauty - Canadians enjoy one of the best natural environments in the entire world. Mountains, prairies, arctic, oceans, lakes.  Abundance of trees and farm land. Hiking is abundant. Animals are plentiful. 
Its a BIG Country -  We have the lowest population density of any major country in the world. While we have high concentrations of people in the major urban centres (Toronto, Montreal, Vancouver), by world standards it is small.  There is so much land that it literally would take more than 2 weeks to drive from one coast of the country to the other coast.   We know, because my family took an across Canada driving adventure to experience it.  
Good opportunity to achieve your own success - If you are ambitious, opportunities are boundless in terms of starting your own business, opening up your own franchise or developing your real estate fortune.  Many of our most successful people are immigrants from other countries. Some of the best educational institutions in the world reside in Canada.  
Nice people - Canadians are known as being nice people.  Some people would even say that we are too nice.  Polite and reserved is a hallmark of Canadians.  We are respected where ever we go. 
Safe place to live (and visit) - We enjoy one of the lowest crime rates of any country.  It is safe to explore our towns or cities both during the day AND at night.  We've never had any war or major civil unrest that has impacted the majority of our population.  Violent demonstrations are very rare.  For tourists, pick pockets and petty theft are also very rare.  
We are "neutral" in the world - When Canadians travel the world, they are welcomed with open arms.  We are viewed as "neutral" and that I believe is a good thing.  Our red and white Canadian flag and maple leaf symbolize freedom worldwide. 
We are a melting pot - Canadians are made up of citizens from more than 50 countries from around the world. Our diversity is celebrated.   One of our provinces, Quebec, is a French speaking society.  We live along side our indigenous natives.  We have places like "China Town" and "Little India" in many of our major cities.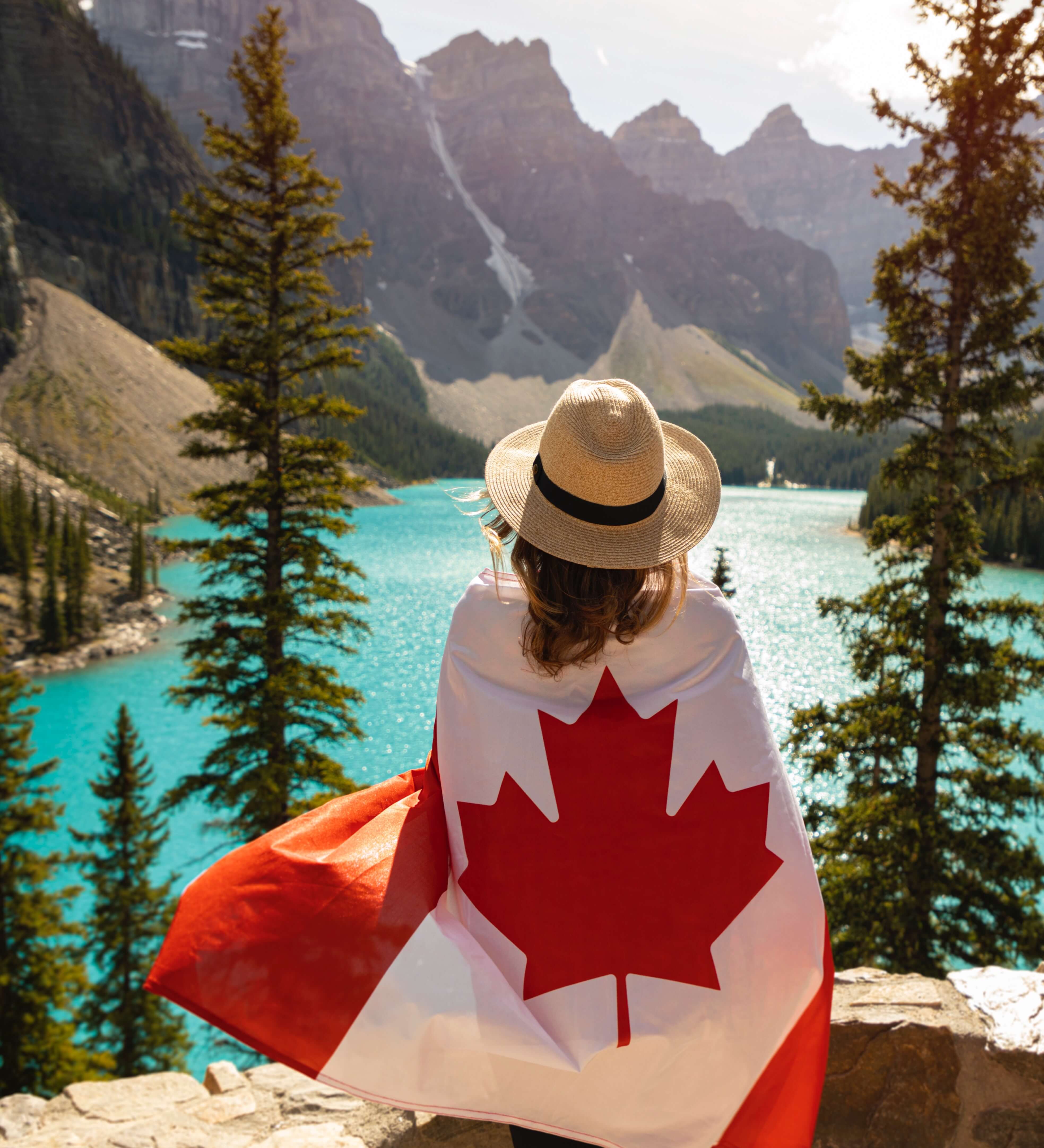 Why live in Canada? Natural beauty like this is one great reason!
---
Interested in visiting Ontario Canada?
Burlington was recently ranged the top City in the entire country of Canada to live.  In the province of Ontario, Burlington is ideally situated 1/2 way between the Greater Toronto Area (GTA) and Niagara, two of the best tourist places to visit when coming to Canada.    
This region is the top destination for new immigrants coming and asking why live in Canada.
Visit one of these great attractions:
TORONTO
CN Tower - the Western Hemisphere's tallest free-standing structure
Visit one of the renowned museums including the Royal Ontario Museum (ROM) and the Art Gallery of Ontario (AGO)
Attend a broadway production - The Princess of Wales Theatre, Royal Alexandra Theatre and the Ed Mirvish Theatre
Catch a sporting event - Blue Jays a the Rogers Center, Maple Leafs and Raptors at Scotiabank Arena or the Argonauts and FC at BMO Field
Ontario Science Center - interactive exhibits and daily science demonstrations
The Toronto Zoo - more than 5,000 animals
Medieval Times Dinner Tournament - Enjoy a royal fest complete with epic battles and jousting tournaments
Ripley's Aquarium of Canada - 
Canada's Wonderland - The countries biggest amusement park
NIAGARA
Niagara Falls - one of the 7 wonders of the world
Clifton Hill - A main tourist area in Niagara Falls full of attractions and must do's
Fallsview Casino

- A premium destination for gambling, entertainment and dining

Fort Erie Race Track

- Bet on a horse!

Niagara Skywheel

- See Niagara Falls from a GIANT 

Ferris wheel!
Niagara on the Lake - Visit the most romantic and charming town in all of Canada
Niagara Wine Region - Visit and sample the best winery's that are situated in this legendary wine region
Skydive Burnaby - Jump out of an airplane (with a parachute and a guide!)
Visit https://www.tourismburlington.com for all the great things to see and do in Burlington and area, while calling Burlington your home base and discovering for yourself why live in Canada.

Stay in one of these beautifully restored heritage homes in Downtown Burlington, Ontario, Canada.
Visit www.gablesonthepark.ca to find out more information on staying in one of these heritage homes and staying in Burlington Ontario.  These are homes that my wife and I have been renting to good people for more than 15 years.  We'd love to host you!
---
---
Last updated:  February 15, 2020