66 - Take air adventures
Reason for this Goal:  Air adventures and travelling through the sky is a thrill, no matter what form of travel.  There are numerous options ranging from mild to highly exhilarating.
Air Adventures
The types of air adventures you can consider include
Bungee jumping
Flying in a small, fixed wing aircraft
Flying in a helicopter
Hang gliding
Powered Hang gliding
Hot air ballooning
Paragliding
Parasailing
Skydiving
Because flying in a commercial airplane is so common today, I haven't listed that as an option, but for some people who haven't flown before, that might be an adventure in itself.  
Kathy and I while in Santa Rosa taking a Hot Air Balloon ride over the vineyards of California, fulfilling one of our 100 goals in the Adventure category.
Before you decide if one of these air adventures is for you, know that there can be a certain element of risk involved, and be comfortable with that.  
While I, myself, am scared of heights at times, I have tried 4 of the above air adventures and loved each and every one, especially hot air ballooning over the vineyards, with my wife, Kathy, in Santa Rosa, California.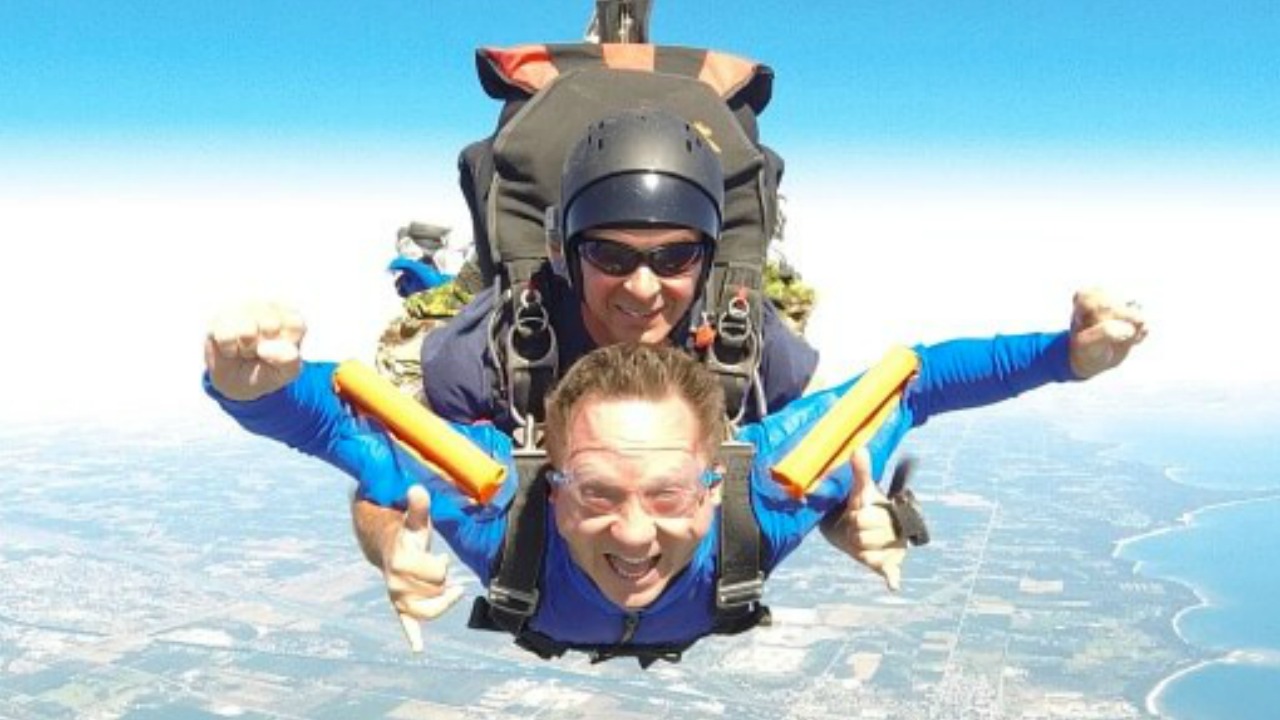 Here I am tandem skydiving on my 50th birthday. It was such a great experience, I plan on doing this again, on my 60th, 70th and 80th birthdays! (I'm the one with the big grin on my face)
Powered Hang Gliding
In 2018, we planned a family trip to Maui, our favorite island destination.  Kathy and I have traveled to Maui for more than a half dozen times in the last 12 years.  Maui Revealed is the best travel book we've ever come across and guides much of what we do while in Maui. One of the adventure activities highly rated in this book is powered hang gliding. 
Kathy suggested that we book this very adventurous activity on this trip, since we were staying in Hana (after taking the famous "drive to Hana"), and this was the location of Hang Gliding Maui. It didn't take any convincing for all four of us to get on-board and sign up for this, what turned out to be one of the most thrilling air adventures of our life.
We booked our trip with Armin Engert, who started Hang Gliding Maui in 1990 and who has accumulated more than 20,000 flying hours to date. Hang Gliding Maui has been featured on several TV shows both domestically and internationally. 
The powered hang glider was a traditional tandem glider, an Australian built airborne "trike", that is considered one of the most reliable, stable and fun ultra light aircraft in the world.  The aircraft featured tandem seating in which we were seated in the rear and the instructor in the front, similar to a motorcycle in the sky!  And most important, there is a back parachute system as an added level of safety. 
The entire experience was absolutely fantastic and is one that we plan to do again some year.  The costs were reasonable considering the experience.   Approximately $ 250 for a 45 minute lesson.  
Visit Hang Gliding Maui, check them out on line. If you ever decide to do this for yourself, tell Armin I sent you and say hi to him for me.  
My daughter Maddie in a powered hang glider flying over the island of Maui with certified flight instructor Armin Engert from Hang Gliding Maui.
There is something very special about having the experience of being able to "fly like a bird".  I remember in my childhood having vivid dreams about flying. 
Decide which of these air adventures you would like to do and write it down.  Make it a life goal and a timeline to make it happen.
Suggested Goal(s):    Plan and take an adventure around 1 of these activities.  

Your Outrageous Goal:   Try all of the above adventures.
Return to adventure goals or 100 Life Goals home page.

---
---
Last updated: November 26, 2019