63 - Experience an Animal adventure . . . to truly appreciate our wild life!
Reason for this Goal:   Experience an animal adventure to understand about why the preservation of our animal kingdom is so important.  By connecting with animals, even though they may be captive, it reminds us all of the tremendous diversity of our planet and the need to protect them in the grand scheme of human evolution.  
On top of this, it's just amazing to see these animals up close and personal.  Just watch a child's reaction. Seeing animals up close and personal can happen in many ways:
In their natural habitat
At a local zoo (see below)
At a natural wildlife sanctuary
On a safari
Visit one of the top Zoos around the world!
The top Zoos around the world, as rated by Trip Advisor, from USA to Asia:
1.       Loro Parque, Puerto de la Cruz, Spain
2.       San Diego Zoo, California USA
3.       Chester Zoo, United Kingdom
4.       Singapore Zoo, Singapore
5.       Prague Zoo, Czech Republic
6.       St. Louis Zoo, Missouri USA
7.       Tiergarten Schoenbrunn – Zoo Vienna, Austria
8.       ZooParc de Beauval, France
9.       Bioparc Valencia, Spain
10.   Folly Farm, Begelly, United Kingdom
In terms of safaris, Africa is the most sought-after place to go.  There are top rated safaris in places like Southern Africa (Zambia, Botswana, Zimbabwe, Namibia, South Africa, Mozambique, Malawi) and East Africa (Ethiopia, Kenya, Tanzania, Uganda, Rwanda, Madagascar, Mauritius).   
Our animal adventure swimming with Stingrays!
On a recent family cruise out of Fort Lauderdale in 2019, my family and I had the experience of a lifetime in Grand Cayman.  We booked a boat excursion to Stringray City Sandbar.  This is Grand Cayman's most popular attraction where we enjoyed an incredible and unique experience of touching and feeding a Stingray in a natural habitat.  We were surrounded by more than a dozen "tame" Atlantic Southern Stingrays that are comfortable around the company of humans.
With the help of our guide, he helped us experience touching, holding and feeding large stingrays, while explaining the history behind them, for an amazing animal adventure. The Stingray's swim freely with humans in approximately 3 feet of water in a very shallow Sandbar area.  They have been doing this for more than 3 decades and while they are wild animals, they truly enjoy this human interaction in their own natural environment (according to our guide).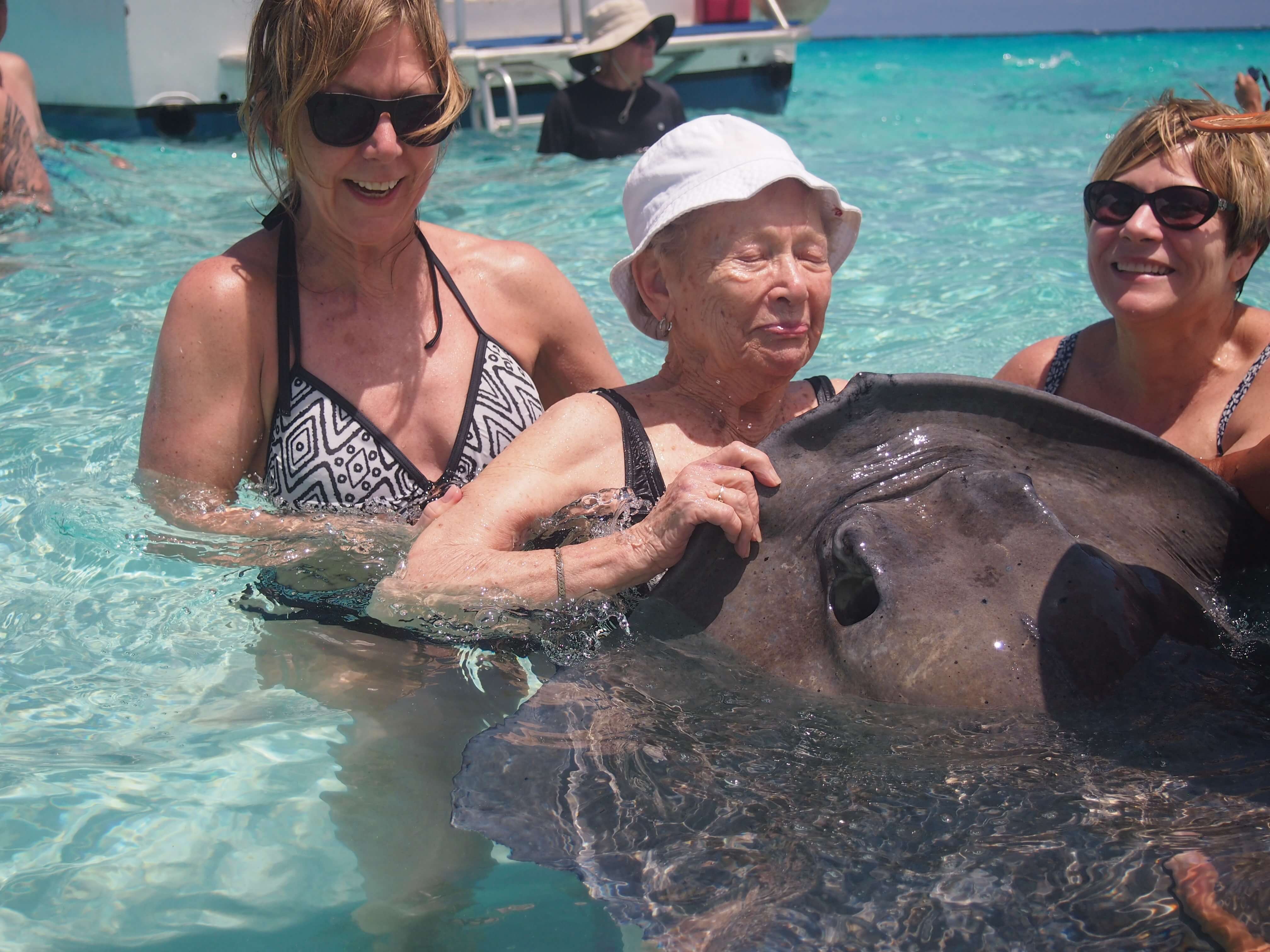 Kissing this Stingray was an experience of a lifetime for my mother Nell who is 87 years old. She didn't expect to go in the water on this trip but to our surprise, she did! She will be talking about this at her retirement home for years.
On this same trip, we visited the Cayman Turtle Center for another Island Wildlife encounter.  I've never seen turtles so large!  Not many species on earth can boast that they are so ancient to have witnessed dinosaurs evolve.   Green Sea Turtles are one of them.  These turtles can grow to over full pounds!  They originally evolved on land and returned to live in the sea about 150 million years ago.  
We had the experience of handling one of these turtles in a very controlled manner so as to not harm them.  This is another example of interaction with animal life that makes you appreciate animals.  We received education on the importance of protecting these historic animals, which was the main role of the Cayman Turtle Center.
Animals on Airbnb Experiences
Airbnb has recently launched experiences of one-of-a-kind activities hosed by locals.  Magical encounters hosted by animals and their advocates.   Search on "animals on airbnb experiences" and visit airbnb to search for hosted journeys to some extraordinary places.
This is a fantastic way to experience animals that you would love to learn about, staying at an airbnb hosted by people who love animals!  What could be better than that? 
Check out this new experience on airbnb to stay with hosts and their animals!!
Suggested Goal(s):    Take an animal adventure and visit the closest zoo to your home town.
Your Outrageous Goal:   Take a 10-day African Safari. 
Return to adventure goals.
---
Last updated: October 5, 2019