77 - Take a cruise ship vacation . . . for a stress free vacation!
Reason for this Goal:   A cruise ship vacation offers a unique and excellent way to travel, especially as a family or with many people of different age groups.  You can easily explore multiple destination ports in just one trip, getting to identify areas of the world that you wish to spend more time in with a return trip.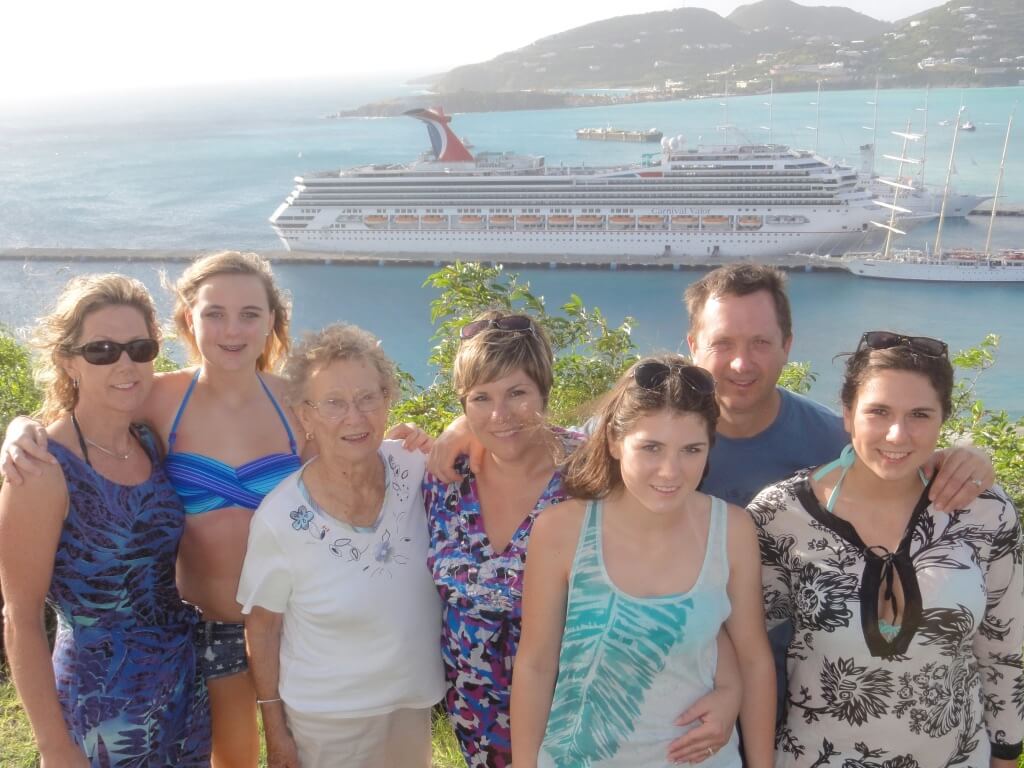 Our first cruise was a Carnival Caribbean cruise with my family in 2014. Loved it!
Top 10 Benefits of a cruise ship vacation
The top 10 benefits of a cruise ship vacation (in no particular order) include:
An Ocean View Room - Being on a floating resort, with a balcony overlooking the ocean, and being able to enjoy the sunrise and sunsets from the privacy of your own state-room.  Sleep with your doors open and enjoy the warm ocean air breezes!
Top Notch Entertainment - Talented entertainers, nightly, in the grand ball room.  Dancers, Singers, Comedians, Magicians.   We've seen some of the best entertainment ever, on a cruise ship, similar to a Las Vegas show!
Amazing and plentiful food, and multiple dining and food options, with excellent table service.  You can literally eat 24 hours a day, 7 days a week on a cruise ship. The variety of food is incredible.
Daily activity schedules, with a wide variety of activities for all ages.  I recently learned how to play steel drums as one of the offered activities.  It led to a performance in the main piazza of the ship hosted by the cruise director! There are activities offered for interests of types . . . games, sports, spas, fitness, health seminars, dancing lessons and much more
Visit multiple countries on one cruise - Being able to choose your area of the world to cruise and visit a unique port and/or country almost every day, to experience different cultures. On our last cruise, we visited Grand Cayman, Honduras, Belize and Mexico in 4 consecutive days.  
No packing and re-packing - Not having to worry about travelling and moving your luggage around from hotel to transportation to hotel (and repeat) while on the cruise ship is stress free! 
Meet others from around the world - Cruises attract people from many countries.  On our last cruise, there were staff from over 50 countries represented on the ship, with guests from more than 20 countries.  Cruising is an easy way to get to know others and develop lifelong friendships with those you meet.
All Ages and multi-generations - Cruising caters to people of all ages, young and old.  They offer activities for children, teenagers and adults of all ages.  On our last cruise, we took my 87 year old mother.  Even though she used a walker, she still was able to thoroughly enjoy herself (and so did we!).  On a prior cruise, we had family from 3 generations of our family.
Great Live Music - All of our cruises have featured several bands and DJ's performing a wide range of music that appealed to people of all ages.  Most ships have at least 5 or 6 different venues in which bands perform for either listening, drinking or dancing pleasure.
Sporting Activities - Cruise ships offer a wide range of amenities, including fitness centres, swimming pools (more than one), climbing walls, golfing, surfing, water slides, skating arenas and much more.   Each new ship tries to offer something new and unique from prior ships to create unique experiences.  I love working out in the gyms in the mornings, to help work off some of the calories from all the great food I ate the night before!
The 10 most popular cruise ship destinations!
Ten of the more popular cruise ship destinations for taking a cruise ship vacation, in alphabetical order, include:
1.       Alaska
2.       Australia
3.       Bahamas
4.       Baltic Sea 
5.       Bermuda
6.       Caribbean
7.       Hawaii
8.       Mediterranean
9.       New Zealand
10.   South Pacific (Tahiti, Bora Bora, etc.)
Suggested Goal(s):     Book and take a cruise ship vacation with your entire family.
Your Outrageous Goal:   Take 10 cruise ship vacations to the world's top destinations.
My wife and I only started cruising 6 years ago, and we enjoyed our first Caribbean cruise so much that we've taken cruises to Bermuda, the Mediterranean (Italy, Greece), the French Polynesian (Tahiti, Bora Bora),  and most recently another Caribbean cruise out of Ft. Lauderdale (Grand Cayman, Honduras, Belize, Mexico).   Each cruise has been on a different cruise line (Carnival, Norwegian, Celebrity, Paul Gauguin, Princess) and I can honestly say that each of the cruise line ships was fantastic!
We will be planning many more throughout our retirement years. 

We travelled on the Caribbean Princess out of Fort Lauderdale in April 2019 to the ports of Grand Cayman, Belize, Roatan and Cozumel. We had a balcony room on the Lido deck. What a beautiful ship and amazing vacation!
Return to travel goals and the benefits of travelling.
---
---
Last updated: January 1, 2020