73 - Attend a major sporting event . . . take sport travel to a new level!
Reason for this Goal:   Sport travel . . . Some of the greatest events are staged around major sports.  With the energy and excitement of a major sporting event, decide you'll attend one of the major games associated with your sport of choice, and make a major event out of it, travelling out of town and getting caught up in the excitement. 
Of course, it's much more exciting if your local team or someone you know is competing for the championships.
Sport travel to one of these major sporting events!
The following is a list of some of the major sporting events of all time:
Calgary Stampede (rodeo) – Canada -  The Calgary stampede is considered by many to be the greatest show on earth.  The Calgary Stampede is an annual event that celebrates Canada's western heritage, culture and community spirit, held in July each year.  
Daytona 500 (motor sport) – USA - The Daytona 500 is a 500 mile long NASCAR series motor race held annually at the Daytona International Speedway.  Located in Daytona Beach Florida, it is one of the top racing car series of the world and a must for all racing enthusiasts. 
FIFA World Cup (soccer) – Host Country - The FIFA World Cup (World Cup), is the international association football (soccer) competition for the national teams that are part of the Federation Internationale de Football Association (FIFA), the sports governing body.  This event is held every 4 years and is the most prestigious football (soccer) tournament in the world, representing 32 teams from countries around the world and enjoyed by close to a billion people on TV. 
The Grand National (equestrian steeplechase) – England - The Grand National is a National Hunt horse race held annually (April) at Aintree racecourse in Liverpool England.  The course is approximately 4 miles long, with horses jumping 30 fences over two laps.  This is the most valuable horse race in Europe (and perhaps world), which is cherished by people in England and enjoyed by people from around the world who don't normally watch or be on horse racking.
Other prominent sporting events for your potential sport travel life goals include:
The Masters (golf) – USA - 
National Basketball Association Finals – USA - 
Olympics, summer or winter (multiple sports) – Host Country - 
Stanley Cup (hockey) – USA or Canada - 
Super Bowl (NFL) – USA - 
Tour De France (cycling) – France - 
Wimbledon (tennis) – England - 
Winter X Games (extreme sports) – USA - 
World Series (baseball) – USA or Canada -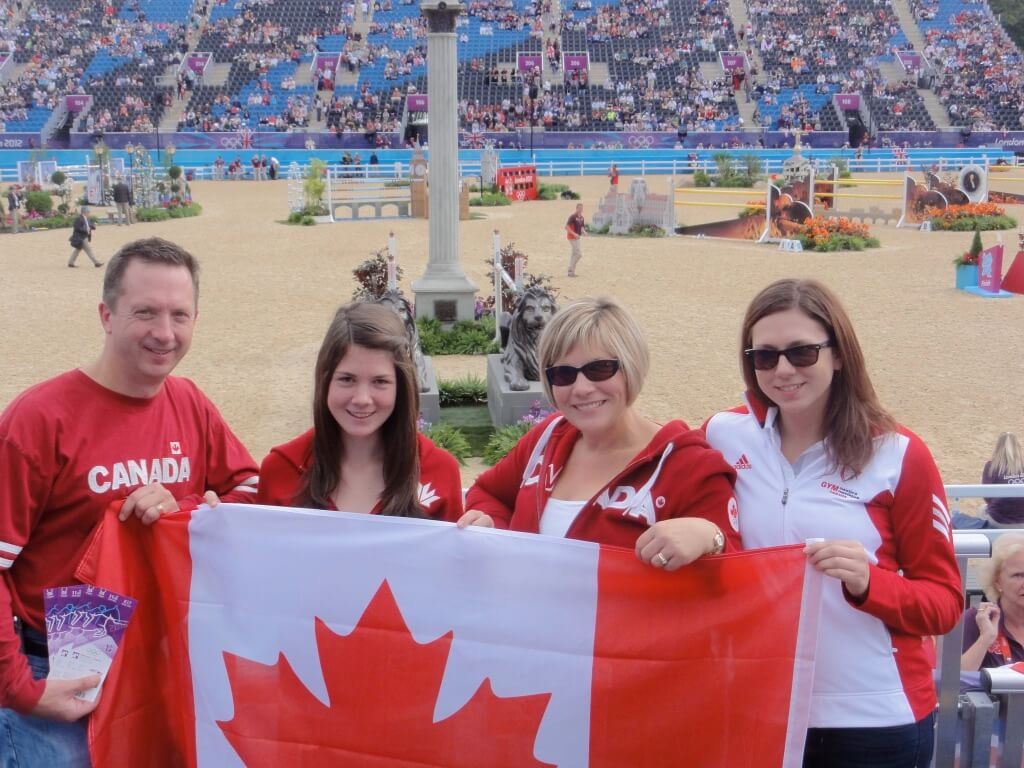 My family at the 2012 London Olympics watching the equestrian competition event. We were interviewed on the jumbo-tron TV during this event (must have been our National patriotism / attire)
There are numerous other major sporting events throughout the world for sport travel. Choose something that resonates with your sporting loves, or that of one of your friends or family.
Suggested Goal(s):    Attend one of these major sporting events.
Your Outrageous Goal:    Attend all of the above major sporting events.
Return to travel goals and the benefits of travelling.
---
---
Last updated: January 1, 2020