78 - Go on an island vacation
Reason for Travel Goals:   When you dream of the perfect vacation, many dream of an island in the tropics, with idyllic beaches, palm trees, and crystal clear blue waters.  Fortunately, there are many dream vacations that you can take to beautiful islands where you can experience this.  There is no better way to vacation then to really get away and relax.
Travel Goals for the top 10 island vacations!
The top 10 island vacations, as reported by Trip Advisor, include:
1.       Maui, Hawaii - This is our all time favourite vacation, island or not.  We've been to Maui more than 6X and truly love everything about this island.  It has natural beauty, mountains, oceans and beaches.  It has some of the best restaurants in the world, with ocean views! The weather has always been perfect.  The vegetation is lush.  I could go on for ever about why you should plan a visit to Maui!
Ensure you buy the book, Maui Revealed, to help plan your vacation and find all the hidden gems that the author recommends. This book is so good that I'm sure its one of the reasons we've been back so many times.  We've used a lot of travel books over the years and this is hands-down the best travel guide book you'll ever find.  
2.       Santorini, Greece - On our Mediterranean cruise, we visited Santorini in 2015.  It was just like photographed in all of the travel magazines with the breath taking views of the white buildings and blue roofs, perched on the ocean cliffs.  It definitely has the makings for a dream vacation, honeymoon or anniversary!
3.       Jamaica - Jamaica is a very popular island destination for families and for those starting off on their first vacations.  One of the reasons is that they offer so many all-inclusive resorts with excellent beaches, weather and activities. It's also one of the more affordable island vacations.  
4.       Providenciales, Turks and Caicos - 
5.       Bali, Indonesia - 
6.       Majorca, Balearic Islands - 
7.       Mauritius, Africa - 
8.       Phuket, Thailand - 
9.       Bora Bora, Society Islands - We celebrated our 25th wedding anniversary in 2017 on a cruise through the Society Islands which included a stop on Bora Bora.  It was a remarkable experience and it's no wonder that Bora Bora is one of the top island destinations.  One of the great features of Bora Bora is the over water bungalow (OWB) where you can sleep in a hut literally over the water.  I can't think of a better way to enjoy an island vacation.  We enjoyed a couples massage in a hut over top a glass floor while watching the fish swim by!
10.   Fernando de Noronha, Brazil - 
While I'm sure the ranking of these top 10 islands will change year by year as rated by Trip Advisor or any of the other prominent travel sites, you can't go wrong by selecting any of these top island destinations.  Do your own research and determine what speaks to you. 
Suggested Travel Goals:     Take an island vacation on your Xth (decade or quarter century) milestone birthday, or honeymoon.
Your Outrageous Travel Goals:   Visit the top 10 island vacations around the world.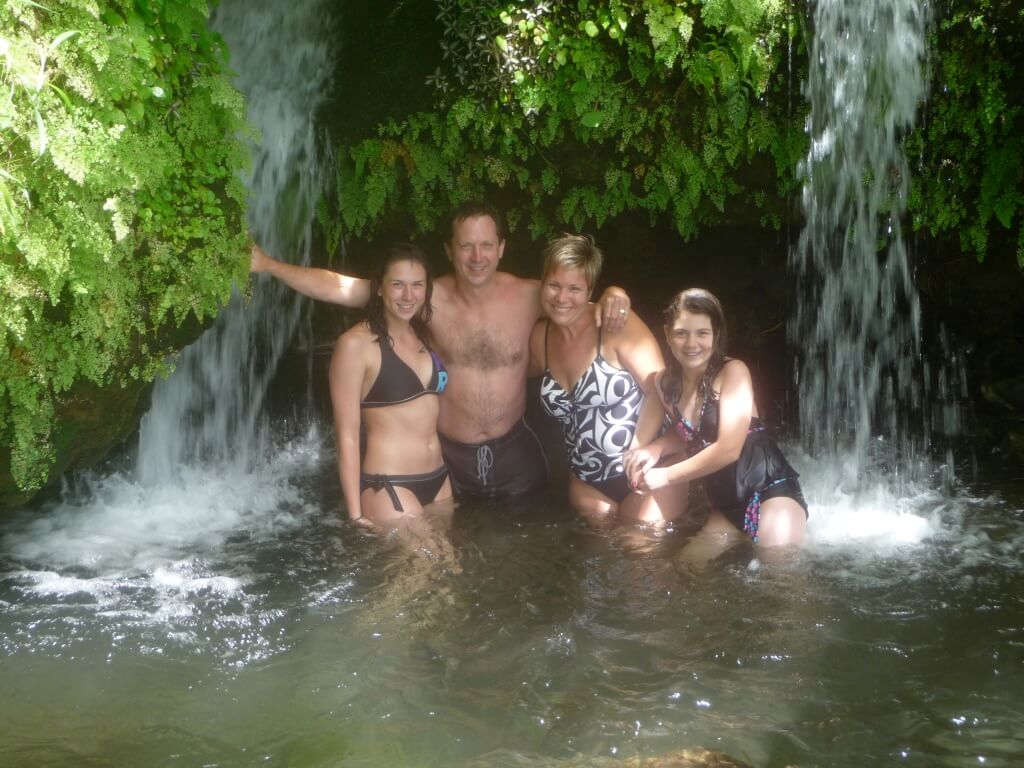 Our very favorite island vacation is Maui. Here we are enjoying a private waterfall experience along the drive to Hana.
Return to travel goals and benefits of travelling.
---
---
Last updated: December 19, 2019